As he tested and fixed more systems, he began to write procedures and processes so he could consistently measure and record his findings. He also wrote processes for his installers to follow as they began replacing and renovating bad duct systems.
During that time Rob began to serve on different association boards and in 1989 he became president of the local Air Conditioning Trade Association (ACTA). He continued to serve his local HVAC community for many years.
I met Rob in the early 1990s. After running sales and installation for a local Cleveland contractor, as chief editor of a national magazine, I started writing articles about the need for getting comfort right and improving air delivery systems. A mutual friend saw how we were on the same path and helped put us together.
We decided to meet and test a home in Sacramento together using state-of-the-art (at the time) instruments. I realized what Rob had been working on exactly matched what I was looking for. We spent days and nights comparing notes and brainstorming how this could change the industry.
NCI is born
Within a few years, we formed the foundation of National Comfort Institute (NCI). Fortunately, I had a significant background both in technical training and writing.
Combined with Rob's work on developing air balancing and diagnostic processes and his desire to teach, we began to write the first NCI class – complete with manuals and overhead transparencies. In 1993 Rob taught NCI's first class in a distributor's training room in southern California.
We were off to the races!
As we began to fine tune the training, adding certification exams and additional courses, NCI started growing into a real company. By the late 1990s we had trained thousands of HVAC professionals in air diagnostic and balancing. In 1998, we incorporated NCI and devoted 100% of our time to the company.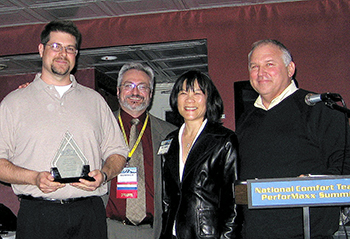 As Chairman & CEO, I dedicated my efforts to growing the company and managing all of its business functions. This allowed Rob as President, to build a world class training team of instructors, while creating and improving curriculum.
An Industry Icon
Over the past three decades, Rob, who started in the industry with no technical background, became the father of modern airflow testing and diagnostics and residential air balancing.
He spent countless hours in pursuit of knowledge. As he learned, he freely shared his knowledge with others.
Together we navigated the negativity of many naysayers who thought we were crazy or just outright wrong. We used to joke with each other that after all, the pioneers were the ones with the most arrows in their backs.
Right up to just days before his passing, Rob and I talked regularly about how we have been so blessed to have a meaningful impact with our work, affecting literally tens of thousands of professionals with our teachings.
Click Below for the Next page