Tradewinds was involved in several energy efficiency programs. The company also worked with the EPA and ACCA to help develop a national Quality Installation Standard.
He remains one of the regional instructors for the National Comfort Institute of Cleveland, OH.
Daniel Squires,

president, Vincent's Heating and Plumbing, Port Huron, MI
Daniel Squires is a licensed Michigan Master Plumber but considers himself an entrepreneur and marketer. Vincent's Heating and Plumbing (ncilink.com/VHP) is a family-owned business.
He and his brother David transformed VHP from a mom-and-pop business to a dominant residential heating, cooling, and plumbing company in Port Huron, MI. They did this through innovative marketing and business practices and by adhering to system performance principles.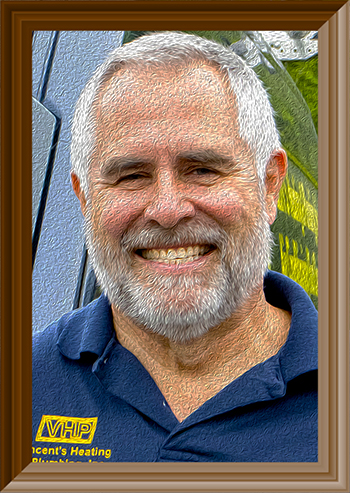 In the world of High-Performance HVAC, Daniel and his team were early adopters, especially when it came to safety. He was one of the first to take NCI's carbon monoxide training and then adopted those protocols into his business.
He made it his mission to train his field service and installation teams and keep them trained over the years. One reason: VHP is focused on safety.
In fact, during the recent pandemic, he and his brother (Dave Squires) teamed up to help the community by creating superior face masks with MERV 13 filter inserts (ncilink.com/Hero).
Furthermore, Daniel led VHP to take classes and become certified in air diagnostics and balancing. They practice that every day.
Over the years, he and his brother Dave have collaborated on many products and services. They are partners in Online Access (ncilink.com/OA), and Daniel has always made VHP a testing ground for new products and services created there.
As a leader of his business, Daniel takes the time to look ahead, to think about where he wants the company and the HVAC industry to be in the future. Some would define that as being a visionary. But from his perspective, it is practical. He says you must look ahead to achieve goals, and one of his goals is to be the highest quality contractor in their marketplace.
To get there requires marketing, relationship building, good service, and developing a solid reputation. These are all things that Daniel pushes in his company and through his writing for the national trade media and his monthly customer newsletter.
But that messaging also needs to be told via national forums, and Daniel has never been shy about fulfilling that role. His influence spreads through his speaking engagements at the first several Summits, and because of his leadership qualities, he's been tagged several times to run the Idea Session at Summit in recent years.
Most importantly, Daniel is not afraid to share with other contractors through networking and events like Summit. He is very professional in everything he does.