High-performance contractors have known for a long time that when it comes to getting the most comfort, capacity, and efficiency from HVAC equipment, it's the system that matters. You need to measure to find those improvement opportunities. Sometimes, it can be challenging to translate those measurements to customers so they understand how much you've helped them.
National Comfort Institute (NCI) trained contractors for decades to measure, not guess when it comes to installed HVAC system performance. About 10 years ago, we briefly piloted the concept of offering third-party certification of those measurement results.
The pilot was met with great enthusiasm. Roughly 50 contractors signed on to offer certified systems to their customers.
Unfortunately, software technology at the time wasn't quite "there." Plus, the industry lacked awareness of field system performance measurement. Customers didn't know that better comfort and lower bills were within reach. Most contractors didn't want the hassle of dealing with a clunky software interface or more paperwork to educate those customers.
Current Sensitivities
Today's residential equipment is more sensitive than ever to system deficiencies. Yes, you can sometimes make variable-speed blowers overcome high static pressure, but with a high energy cost penalty. Many furnaces and air handlers are rated at just 0.5-in. of static, vs. the more common 0.8 or 1-in. models from the past.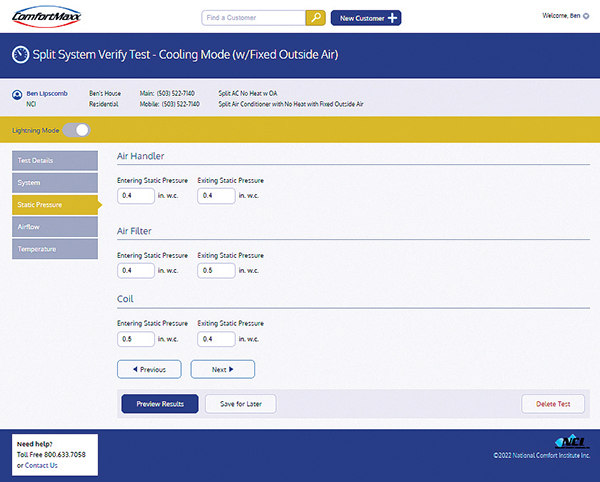 Modern refrigerants are more sensitive to charge and airflow deficiencies. The faster heat pump market penetration versus furnaces means more systems must contend with these issues in heating and cooling, and ducts from old furnaces are likely to be undersized in heating-dominated climates.
Meanwhile, customers today are starting to realize that more than just equipment matters. Years of awareness campaigns by governments, utilities, and organizations like NCI combined with online services allow homeowners to compare contractors making them armed and dangerous to box swappers.
All this means that high-performance contractors have a landscape ripe for harvesting before them. It's time to dust off the tools!
Giving Performance Measurement New Life
NCI has steadily improved our software options for measuring and calculating installed system performance. In 2015 we launched a new cloud-based version of ComfortMaxx™. It allows you to perform three levels of diagnostic and verification testing in the field without any paper forms. You also don't need hand calculations or downloads.
We rigorously tested this software and proved its value in a major utility program in California and now has users spread throughout the United States.
Click Below for the Next Page: