HVAC Contractor Elected Governor of Tennessee
Who says HVAC contractors don't have an impact on the country? Well Bill Lee, chairman of Lee Company, Nashville TN will directly have an impact after soundly defeating the Democrat Karl Dean. He replaces outgoing GOP Governor Bill Haslam.
Tennesseans elected Republican Bill Lee as the state's 50th governor on November 6th. In fact, they voted into office a political newcomer who rose to prominence traveling the state in a recreational vehicle. Lee avoided using negative political attacks and appealed to voters as a conservative businessman.
Notably, he won the race by 20 points, receiving 59 percent of the vote.
Family-Run Business
The Lee Company, a longtime member of National Comfort Institute (NCI), was founded by Bill Lee's grandfather in 1944.
Prior to his involvement with the company, Bill Lee's father, Wallace Lee and uncle. Ted Lee, helped propel the company to national prominence through their efforts working with ACCA and other organizations. Chiefly, they were recognized for helping push Design/Build and a contractor-first approach to commercial and residential HVAC contracting. This really put the company on the map.
A New Leader Arises
Bill Lee joined the company in 1981 after earning a Bachelor of Science in Mechanical Engineering from Auburn University.
Then, in 1992, Bill Lee became the president of the company. He continued building on his father's and uncle's legacy. Under his leadership, Lee Company grew to become a comprehensive facilities solutions and home services company. Lee Company employs 1,150 people and earning $225 million in annual revenue.
In February 2016, Bill Lee retired as CEO to serve as chairman of the company. In an interview with the Tennessean, he said he threw his hat in the ring because he and his wife believed the office of the governor was his calling.
'We felt called to serve,' Lee said.
.
EGIA Foundation Study Leads to Call for Action
Last month the EGIA Foundation released its newly published industry study that addresses HVAC as a career.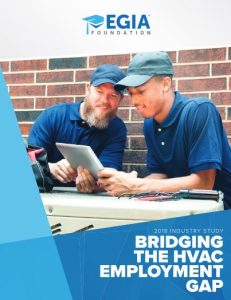 The study, performed and analyzed by Decision Analyst, is called Bridging the HVAC Employment Gap. It tackles the awareness and familiarity of high school students and their parents about HVAC as an industry and as a career.
The study found that 64% of high school students believe HVAC is not a career that would make a parent proud. Unfortunately, often unjustly so, students view these careers as substandard or they undervalue them as career choices.
Perception Changes
To change that perception, EGIA Foundation focuses on promoting HVAC as a first-choice career through a unique coalition of industry stakeholders. The group devotes time to building the workforce through initiatives including public outreach, mentorship programs, scholarships, and employment opportunities.
Says EGIA Trustee Weldon Long, 'Through this work, the EGIA Foundation is ensuring the industry can meet labor demands well into the future."
Learn more about what EGIA is planning by downloading a pdf, or request a printed copy of the study at EGIAFoundation.org/report.
.
Taco Names Three New Regional Sales Vice Presidents
Taco Comfort Solutions has named John Morgan, area vice president, Western US. His responsibilities include managing all sales revenue activities for the Commercial and Wholesale channels. With 25+ years of experience including sales, operations and marketing, Morgan served as senior vice president at a Fortune 500 medical device company.' He was also the West business unit leader for Scotland-based AGGREKO, PLC ' a global leader in providing temporary power generation and temperature control. He also served for four years as president of California-based Veritas Medical ' a medical device distributor and sales organization.
Ric Turmel was promoted to area vice president, Central US. His responsibilities include managing all sales revenue activities for the Commercial and Wholesale channels. Previously at Taco, Turmel lead the business development and commercial sales teams and the iWorX controls group.
The company also promoted Geoffry Bent to southeast region ranager, Commercial Products. Previously, he was a regional sales manager for Taco's building automation system product group. Before his new position at Taco, Bent was construction sales manager for Johnson Controls, among other roles.
.
Danfoss EnVisioneering Symposium: Focus on Regulations Ambiguity and Online Shopping Disruption
Kevin Fay, executive director of the Alliance for Responsible Atmospheric Policy, launched the discussion with a far-reaching sketch of the regulatory scene.'The transition to low-GWP (Global Warming Potential) refrigerants is well underway and the industry is now amid its third shift in key technologies since 1980.
The Montreal Protocol, perhaps the world's most successful treaty, set in motion a concern for HFC (hydrofluorocarbons) refrigerants, but its first goal was to address the atmospheric ozone crisis, in which HFCs played a large role as non-ozone-depleting substitutes.
The recent Kigali Amendment to the Protocol, however, ratified by 48 countries, shifted the goal to addressing climate change.'That meant moving out of high-GWP HFCs'which in turn meant a major technological challenge. HFCs were, in many respects, the least easy refrigerant option.
Regulatory Transition
The first ambiguity to emerge was just how fast the regulatory transition would move.'Today, the U.S. Administration is less concerned about climate change and atmospheric carbon than its predecessors, and more concerned about cost to consumers.'States'especially California'are moving into the regulatory field independently of the national government, so the risk of a 'Balkanized' domestic marketplace has emerged, with regulations varying state-to-state across the country. And the midterm elections could have a yet incalculable impact on thinking in the U.S. regulatory community.
For instance, Charles Hon of True Manufacturing provided an in-depth look at the micro-level impact of regulation.'SNAP rules 20 and 21 aim to drive down use of high-GWP refrigerants and blowing agents,'but what the federal courts will say about moving ahead with those regulations is unclear, and states like New York, Connecticut, and Maryland are following California's lead'each with its own deadlines.
If Kigali is not ratified, and the U.S. has yet to do so, costs around the world could surge in the U.S. and negatively impact trade and jobs'and possible product shortages. Hon joined Fay in painting a landscape of ambiguity and risk'but also of opportunity for action, with more than 30,000 new manufacturing jobs at stake and a $12-billion balance of trade position improvement on the line, along with tariffs and the movement of investment capital to other countries.
Technology Solutions
Technological solutions in refrigeration offer an island of greater certainty amid the shifting scenes: progress is being made toward high efficiency solutions. To illustrate, Paul Bard of Weis Markets outlined how industry partners in the EPA's GreenChill initiative have deployed new technologies to dramatically drive down leak rates'designing out possible leak points so the reductions and overall performance are sustainable'and achieve dramatic energy savings. Further, he shared details of the company's first CO2 transcritical system that was recently installed and is yielding results better than expected, with kW usage 20 percent less than other stores.
Danfoss? Hans Ole Matthiesen, director food retail segment marketing, then sketched the possibilities of a new multi-ejector solution that enables CO2 deployment in warmer climates. The ejector technology's utility is rooted in several properties of CO2 that can be addressed by the solution to improve the cycle and reduce energy consumption on the warmest days'thereby supporting load shifting, heat generation and balancing of power to de-regulate the grid.'Such innovations empower supermarkets to help meet both climate and electrical power management goals.
Megatrends and Online Shopping
Ninety percent of today's data was collected in the last two years. This is according to Danfoss North America Sales Director Peter Dee. He suggests that a new era has opened in digitalization, the 'electrification of everything.' The push for a safe and sustainable food supply and similar large-scale trends offer a new range of possibilities and opportunities ' especially for confronting the challenges of sustainability.
Among the most significant is the path opened to integrating stores in their internal energy use, and perhaps generation, systems into the electrical grid and larger power generation network. More broadly, the underlying technological developments permit a new approach to the relationship between food and the built environment. One where food waste is radically reduced, energy use is optimized and global sustainability goals are achieved. It's imprtant to note that this is done through the data-enhanced ability to better control equipment along the food chain'all enabled by smart store technology, connectivity and cloud-based solutions.
One sub-trend of digitalization, however, presented the most pressing challenge to the retail food industry: online shopping.'In selected food subgroups, online shopping has made enormous strides.'Canned goods and pantry items, for instance, have seen a strong shift to online. Twenty-eight percent of online food purchases are from those categories. Online food buying has surged from $6.2 to $12.6 billion between 2013 and 2017.'Total market share for online food purchases is expected to balloon from 1.3% in 2014 to between 20 and 30% by 2022.
The statistics foretell a massive restructuring of the industry. This will impact the shape of stores, the nature of industry finance, and the human resource profile. It will also impact performance pressures, operational priorities, and equipment requirements.
Conclusions
While technologies are making possible powerful solutions, the incentives to invest are flickering on and off. Is jumping ahead a way to get in the lead? Or is it an invitation to invest in equipment that solves what could prove to be the wrong problem?'Alternatively, is maintaining status quo an act of prudence in an uncertain world or an unwise abdication? And more broadly, how can a business leader make decisions when so much is not only unknown, but also unknowable?
Finally, how will the 'era of disruption' that technology and the megatrends it has inspired impact retail food? That disruption is coming seems not in doubt. The grocery industry of tomorrow will be quite different, and tomorrow is not far away.
The 32nd Danfoss EnVisioneering Symposium opened such questions. It brought them to the fore systematically. Then it provided a unique opportunity for industry leaders to explore them together.
Yet their answers lie somewhere in the future. Such answers will come from judgements made by market leaders and in decisions by the real 'end user,' the customer.
.
EVAPCO Chooses new Sales Representative in Cleveland, OH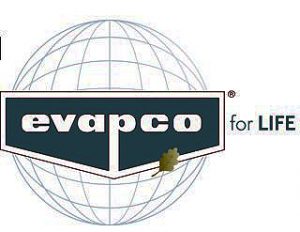 Northrich Company is now the exclusive EVAPCO representative in the HVAC and Industrial Process markets for the Cleveland, OH territory. Northrich will also serve as the Mr. GoodTower Service Center for the Cleveland area. Northrich continues serving the EVAPCO territory in Toledo.
'I'm so excited to have Northrich, with Principal Mike Goetz and his knowledgeable staff, serve EVAPCO in an expanded way,' said Jamie Facius, vice president of EVAPCO North America sales.
'They've earned it.' Their expertise in the equipment, along with their depth of knowledge in the industry, will greatly strengthen EVAPCO's exposure within these key Ohio markets.'
.