At Thomas E. Clark, we are true believers in the benefits of static pressure measurements. It's an important HVAC system vital sign that uncovers hidden airflow issues we would otherwise miss. For example, one job we diagnosed had a furnace that was tripping the high limit. Others blamed this problem on a zone system issue. We tested system static pressures and found a restrictive air filter leading to high static pressure and low fan airflow. Testing helped us to find the true cause for overheating and prevented further misdiagnosis.
In this article, I want to give you a peek at how Thomas E. Clark uses static pressure testing to solve airflow problems, generate leads, and build trust with our customers.
The Right Stuff
To measure static pressure, each of your technicians will need the following test instruments and accessories.
Digital Manometer or Magnehelic
3/16′ i.d. neoprene or rubber tubing
One static pressure tip
3/8′ bullet tip drill bit with sheath
3/8′ plastic test port plugs
Carrying case.
Without these essentials, and knowing how to use them, you will miss a lot of airflow problems.
Total External Static Pressure – The Foundation
Total external static pressure (TESP) is the first measurement we take to determine an airflow problem. This test provides an overall picture of what's happening with the system. If our measured TESP exceeds the air handling equipment's maximum rated TESP, we know an airflow problem probably exists.
To measure TESP, you'll need to install 3/8-inch test ports (drill holes) where air enters and leaves the equipment. You'll need to drill into areas that could cause refrigerant or water leaks, so be careful. We make sure our guys use a drill bit sheath, so the drill bit only penetrates the cabinet a little.
Once they install their test ports, our technicians measure pressure entering and leaving the air handling equipment. They add the two pressures together to determine TESP. If they measure high TESP, then they should measure static pressure across other system components to determine what is causing it. High TESP tells us we have a problem, it doesn't tell us where that problem is located.
Filter Pressure Drop
The air filter is a leading airflow restriction, so we measure its pressure drop next. It's common for a clean filter made of a restrictive material, or a filter that is too small, to choke down system airflow.
To measure filter pressure drop, install a 3/8′ test port before and after the air filter. Measure pressure entering and leaving the filter, then subtract them to determine filter pressure drop. According to NCI's static pressure budgets, a properly sized air filter should have a .10-inch water column (WC) filter pressure drop.
To measure a system with a return air filter grille, our guys measure filter pressure drop by following NCI's training: They pierce the static pressure tip through the return air grille and filter. They then read pressure drop directly on the manometer.
If the filter pressure drop is .10-in. WC or less, the technicians know they haven't yet found the airflow problem. If it's higher, they know the filter can't handle the proper airflow. This test shows whether the filter will work in the system even if it's clean.
Coil Pressure Drop
Indoor coils are another common airflow restriction that can be a challenge to measure because no one wants to drill into a coil and cause a leak. Unless my guys can remove the coil panels before drilling, they will use a drill bit sheath to prevent coil damage.
To measure coil pressure drop, install 3/8′ test ports before and after the coil. Measure pressure entering and exiting the coil, then subtract them to determine coil pressure drop. It's important to know the coil condition. A wet coil often has a higher pressure drop than a dry one.
According to NCI static pressure budgets, a properly sized and clean coil should have a .20 to .30-in. WC pressure drop. If the pressure drop is higher than .20 to .30-in. WC it can indicate the coil is plugged or too small for proper airflow. This test shows whether the coil is plugged or restrictive without taking all the panels off ' it's a real time saver.
Duct System Pressures
If the air filter and coil pressure drops are good, the next step is to measure the supply and return duct system. On a standard installation, test ports are already installed.
Return duct pressure is a single pressure measurement taken where air enters the air handling equipment. If the air filter is at the equipment, return duct pressure has the same reading as the pressure entering the filter. If there is a return air filter grille, return duct pressure is measured in the return plenum, where air enters the air handling equipment.
Supply duct pressure is also a single pressure measurement taken where air enters the supply duct system from the air handling equipment. This is typically in the supply plenum. When my guys work on a gas furnace system, they take the pressure measurement above the coil in the supply plenum. If the job has a heat pump system with an air handler, they measure supply duct pressure in the supply plenum as air leaves the air handler.
They are always careful about getting too close to any electric heat strips. You should be too.
Again, according to NCI static pressure budgets, the pressure on either side of the duct system should not be higher than .10-in. WC. The duct system with the highest pressure is the one that is the most restrictive and where the technicians need to test further.
So, they measure down from the first duct system test port and install test ports every four feet or so. They look at pressure-drop down the duct system and across suspect duct fittings like sharp transitions and turns. They look for big pressure changes in the ducts. These two items indicate an airflow restriction in the duct system. Technicians can quickly tell if the ducts are undersized with this test.
Test Advanced, Explain Simply
When our guys discuss static pressure readings with customers, they are trained to keep explanations as simple as possible. We use basic analogies our customers can tie to their problems. The NCI comparison of static pressure to blood pressure serves our team well.
At Thomas E. Clark, we base any questions to customers around the readings we've taken. For instance: If static pressure is high, we ask questions about comfort, hot and cold spots, or high utility bills. Consumers think we have a crystal ball when we pinpoint problems like this.
Seeing is believing and our test instruments and readings make customer problems visible. Once we discover the problem, our team focuses on finding a solution that fits customer needs and budgets.
Dig Deeper
Keep in mind, correcting a static pressure issue doesn't mean we fixed an overall airflow issue. We can still have issues with leaky ducts or improperly sized branch ducts that prevent proper airflow from being delivered. We try to dig deeper to make sure any potential problems are headed off.
Measuring static pressure is the first step that leads us in that direction.
.
Meet Mike Hartman at NCI Summit 2019
Done right, a few simple tests will generate high quality leads with virtually no competition and very high conversion rates.
To hear more details on how Thomas E. Clark uses static pressure testing to diagnose problems, generate leads, and gain customer interest, come see Mike Hartman co-
present with NCI's David Richardson at Summit 2019 (www.gotosummit.com) in Orlando, FL.
In this highly interactive hands-on session, both Mike and David will demonstrate proper testing techniques and how to explain test results, gain customer interest, and hand-off the lead. The session is titled,, 'Lead Generation through Performance Testing.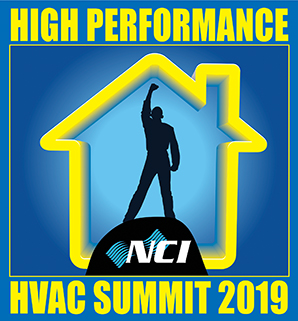 Take advantage of early-bird pricing by registering today.
Early bird ends on January 31, 2019. Don't wait another minute! You can still save hundreds on your registration costs. And don't forget to book your hotel ' we are expecting rooms to sell out early. Go to ncilink.com/wynd and reserve your rooms at the Wyndham Orlando Resort (you can also call them at 407/351-2420).
Questions? Call 800-633-7058 and talk to your customer care representative.