Written By HVAC Professionals for HVAC Professionals
Dwyer 490A Hydronic Differential Pressure Manometer
The original Dwyer 490 hydronic manometer has been around for more than a decade. Back then, it wouldn't read in feet, and the resolution wasn't where it needed to be. But its size and weight were perfect for when balancing dozens to hundreds of chilled and hot water coils above the ceiling on large commercial projects.
The 490A today has fantastic resolution, accuracy (±5% FS accuracy), and a handy back-lit screen which is a bonus when you are up in a ceiling. It comes in several packages with or without the manifold, in ranges from 0-15 PSI, up to 0-500 PSI.
Not only does this device meet the requirements for most TAB certifying organizations, but it also comes with a NIST traceable calibration certificate (ncilink.com/NISTCert), plus many of the parts and fittings you'll need.
Besides being a great tool for longtime Hydronics pros, it is also the perfect FIRST hydronic meter for professionals just starting to explore hydronic balancing.
Another bonus for when you need to travel to a job across the country: a travel-friendly soft case version of the 490A. This soft case enables me to fit the entire 490A kit into my computer bag. This specific soft-case kit is ONLY available through National Comfort Institute (NCI) and National Balancing Council (NBC).
Of note is the fact that the 490A is the result of input from hundreds of professionals holding certifications from multiple organizations, union, non-union, TAB, mechanical, residential HVAC, Federal government, and facilities managers.
Learn more about the 490A and the soft case on the NCI website (ncilink.com/Dwyer490A).
If you are interested in the manifold version, go to Dwyer's website for more information (ncilink.com/DwyerHyd).
— By Scott Fielder, Director, National Balancing Council
---
Fieldpiece SDP2 Dual In-Duct Psychrometer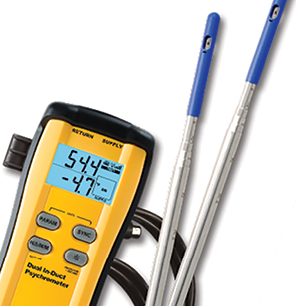 The Fieldpiece dual wand psychrometer (SDP2) is quite a versatile instrument when it comes to multiple temperature measurements.
Because it has two wands that attach to one hand-held unit, equipment temperature testing has never been any easier! Just place one wand in the return plenum, the other in the supply plenum, and the instrument displays both readings simultaneously.
When you need dry bulb or wet bulb measurements, relative humidity, or dew point readings, the SDP2 can do it. It even has a built-in psychrometric chart which will convert wet bulb readings to enthalpy, so us airheads don't have to look at enthalpy conversion tables anymore.
Put the calculators away – the SDP2's programming will calculate the temperature differentials in any temperature parameters. It even has a function that will sync with the correct set of Fieldpiece gauges for proper refrigerant circuit charging.
Other pros of the SDP2: it's a very rugged instrument with a protective rubber case around the front, back, and sides. Its keypad is easy to use for changing parameters, and having two wands instead of one is huge!
By the way, the SDP2 has a great display screen with a blue back-light feature.
There are only two cons to this instrument: One is the wand tips can become damaged pretty easily if you aren't careful. The second is that the protective covers for the wand tips are black. When working in dark areas they can be hard to locate when testing is complete.
If interested in learning more about the Fieldpiece SDP2 Dual In-Duct Psychrometer, go to ncilink.com/SDP2.
— By Casey Contreras, NCI Field Coach and Instructor