"Talk About Support!"
— Kurt Walborn, Gary & Sons, Inc., Falls Creek, PA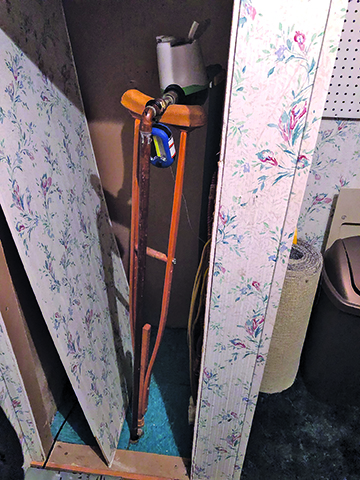 Kurt Walborn discovered this beauty on a recent job. Apparently, the previous technician used a crutch to hold up the water line. Walborn said, "I guess this works if the customer only needs one crutch!"
Kurt Walborn of Gary and Sons, Inc., Falls Creek, PA is the July 2019 winner of our Photo-of-the-Month contest, in the What the Heck! category. Winners are voted for by both the subscribers to High-Performance HVAC Today magazine and visitors to the website. Kurt will receive a $50 gift card.
You can win too – submissions are always welcome. If you'd like to submit a photo for consideration in our Photo-of-the-Month contest, go to ncilink.com/POMSubmit and fill out the information as requested.
THE AUGUST CONTEST OPENS ON JULY 12, 2019.
That gives you plenty of time to submit something in any of our three categories: The Good, The Bad, and WTH (What the heck).