HARDI Annual Conference Set for December in Austin
Every December, the Heating, Airconditioning, and Refrigeration Distributors International (HARDI) hosts its Annual Conference for its HVAC distributor members. The four-day event is set for December 1-4 at the JW Marriott, Austin, TX.
The meeting brings together distributors, manufacturers, and other vendors from across the HVAC Industry to work on driving their businesses forward, growing their professional networks, and expanding their industry knowledge.
This year HARDI's theme is Legacy, which focuses on the rich 100-plus-year history of the HVACR distribution industry and its impact on modern society today and on into the future.
'I have been very fortunate to be Chairman of HARDI for such a groundbreaking year,' says Troy Meachum, HARDI's 2018 chairman. Meachum is president of ACR Supply Co. in North Carolina. He adds, 'With this year's theme of Legacy, we took a meaningful approach to analyzing and discussing how HVACR industry professionals do business, and I could not be more excited to bring it all together down in Austin.'
HARDI has put together a very full agenda divided into three tracks:
Explore: Analytics, Trends, Data
Execute: Culture, Brand Development, Recruitment
Expand: Strategy, Innovation, and Technology.
Kicking the program off will be Keynote Speaker Matthew Griffin, co-founder and CEO of a company called Combat Flip Flops, a footwear and apparel company that sells goods manufactured in conflict and post-conflict zones.
Other speakers include:
Dr. Alan Beaulieu – Principal at ITR Economics and senior economic advisor to several trade associations
Frances Stroh – Award-winning author of BEER MONEY: A Memoir of Privilege and Loss
Gerry O'Brion – Professional speaker and strategy consultant
Barry Brandman – Widely recognized security expert and CEO of Danbee Investigations
Susan Frew – Co-owner and president of Sunshine Plumbing, Heating and Air in Denver, Colorado.
Ian Heller – President/COO of Modern Distribution Management, a resource for market intelligence and industry insight.
Mohammad Ali – Expert in Virtual Reality production, distribution, and education.
Luke Hall-Jordan – Chief of the EPA's Stratospheric Program Implementation Branch.
Danielle Wright – Executive Director for the North American Sustainable Refrigeration Council (NASRC)
Richard Hadden – Author and workplace expert with a focus on Leadership and Employee Engagement.
Mark Chaffee – Vice President of Governmental Affairs & Sustainability for Taco, Inc.
Susan Rider – Consultant in Employee Benefit and Human Capital Management.
Chad Morris – Designs industry-leading cost containment strategies to improve organizations' employee benefits programs.
Charlie Warren – CEO of Convex, a leading data analytics business for the HVAC sales and service market.
The meeting will also feature two distributor panel discussions. The first is the Young Talent Panel moderated by Steffan Busch of the Nexstar network.
The second is the Legacy Panel led by Tom Gale of Modern Distribution Management. Learn more about all the speakers and panelists here: hardiconference.com/speakers/.
To register, follow this link: hardiconference.com/register/
For more information, go to the hardiconference.com/ website.
.
High-Performance HVAC Today Magazine Celebrates First Anniversary
November is the one-year anniversary of High-Performance HVAC Today magazine ' the new voice for the Performance-Based Contracting? Industry. As publisher Dominick Guarino wrote in the inaugural issue, 'Performance-Based Contracting? (PBC) is more than just a technical discipline. It's a culture within organizations that aren't satisfied with just installing, replacing, or servicing equipment.
'These contractors understand they can provide customers with the highest level of quality and performance when they test every HVAC system they come in contact with. Performance testing allows them to verify each system is operating at optimum performance.
'And then they can provide documented proof.'
Twelve issues later, Editor-in-Chief Mike Weil says, 'Our editorial is written by high performance contractors for contractors who are also performance-based or are considering taking that path. 'We write about the news and technologies that impact performance-based HVAC contractors and their customers, as well as the changes in the business necessary to successfully implement processes and procedures for operating as a high-performance company.'
During the last year, 30+ industry experts – National Comfort Institute trainers and Performance-Based Contractors from across the country ' shared their knowledge here. In fact, High-Performance HVAC Today published more than 380 pages of content geared toward implementing and enhancing PBC into an HVAC contracting business.
After one year, we'd like to thank all of the advertisers and partners who have supported the magazine and recognize the nearly 15,000 subscribers.
To advertise in the magazine and reach this unique audience of HVAC contractors, contact Dave Kenney at DaveK@ncihvac.com or call him at 440-670-5370 with questions.If you'd like to receive our digital or print version of the magazine, just go to ncilink.com/subscribe and sign up.
Or if you'd like to write for the magazine, submit your ideas at hvactoday.com/contribute/. We look forward to continuing our service to the High-Performance HVAC contracting industry for years to come.
.
September's Photo of the Month Winner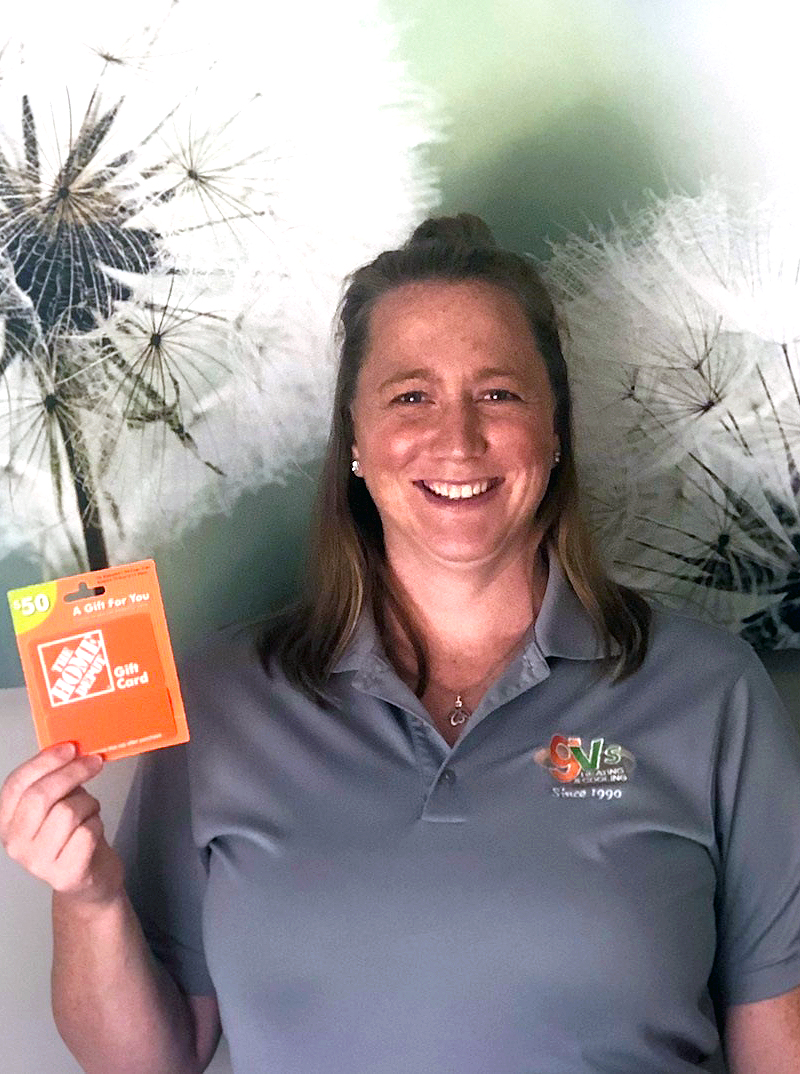 The winner of the $50 gift card in the High-Performance HVAC Today magazine photo contest was Dawn Mroczek of GV's Heating and Cooling, Glenview, IL.
The contest is for readers to share some of the amazing or crazy installations they find while on service or new install calls. Photos are posted on the High-Performance HVAC Today website and visitors vote on the one they think should win the gift card, courtesy of National Comfort Institute.
Dawn writes, 'Thank you so much! This was a great surprise to win!?
If you'd like to submit a photo for consideration in an upcoming contest, it's simple: just go to ncilink.com/PhotoOfMonth and upload the photo and a brief description.
.
AHR Innovation Award Winners Announced
AHR Show Management recently announced the winners of the 2019 AHR Expo Innovation Awards competition. Each year, products in 10 different categories are recognized for being some of the HVACR industry's most innovative products, systems, and technologies.
W
inners were selected by a panel of third-party ASHRAE member judges who evaluated each award entry based on its innovative design, creativity, application, value, and market impact.
All winners will be formally recognized during the 2019 AHR Expo, Jan. 14-16 at the Georgia World Congress in Atlanta. The ceremony is open to all Show attendees and is slated for January 15 at 1:00 PM EST.
The AHR Expo will also announce this year's winner of their Product of the Year Award at the ceremony. To see a complete list of winners, go to gotosummit.com.
Meanwhile, if you plan on attending the expo, be sure to stop by booth BC4929 and say hello to the National Comfort Institute team.
.
SoCal Edison Presents $1.8 million Rebate to California Manufacturer
The Southern California Edison utility recently presented a $1.85 million check ' one of its largest incentive rebates to date ' to leaders at circuit manufacturer TowerJazz for upgrades to their plant in Newport Beach, CA. TowerJazz manufactures next-generation integrated circuits (ICs) in growing markets such as consumer, industrial, automotive, medical, and aerospace.
TowerJazz collaborated with Trane?' to complete energy-saving upgrades which reduced peak energy demand by more than 1.3 megawatts, saving about 12.5 million kilowatt hours annually. This is equivalent to eliminating greenhouse gas emissions from 2,000 cars.
The project focused on modernizing TowerJazz's chiller plant and replacing aging and outdated equipment. The plant has more than 800 employees and fabricates 200-millimeter wafers (silicon material used in electronics for the manufacture of integrated circuits).
Completed in November 2017, the upgrades reduced HVAC energy use by nearly 50% while improving the manufacturing and working environment. The plant, previously the organization's second-to-worst energy user, is now the second most efficient energy user.
For more information, please click on this link: ncilink.com/SoCalRebate.
.
ASHRAE Realigns Relationship with IAQA
ASHRAE recently announced they reached an agreement with the Indoor Air Quality Association (IAQA) for IAQA to transition them to an association management firm.
IAQA became an affiliate of ASHRAE in 2015. In that relationship, IAQA's operational base became integrated within ASHRAE's operations in Atlanta, GA. With this new change, IAQA will take on a more independent management position. Both organizations are committed to continue collaborative programming that benefits all members involved.
During its affiliation, IAQA operated independently within ASHRAE's organizational structure, maintaining its own brand and Board of Directors.
IAQA will now be managed by AH, an association management company with offices in Mount Laurel, NJ and suburban Washington, DC.
.
Building a Higher Standard Dealer/Distributor Awards
American Standard announced the winners of its 2018 'Building a Higher Standard' awards, for dealer commitment to customers, employees, and their communities.
The manufacturer launched this awards program in 2018 to recognize independent HVAC dealers across the country for exemplifying American Standard's core values, including integrity, community involvement, teamwork, and a focus on continuous improvement in the pursuit of excellence.
Winners include:
Florida Keys Air Conditioning and Gemaire Distributors, Marathon, FL
Andrews Heating & Air Conditioning, Clinton, IN
Shafer Services Plus, San Antonio, TX
Cary Heating & Air Conditioning, La Crosse, WI.
'This award is our new, highest honor for the highly skilled contractors who represent our brand,' said John Hofmann, Vice President for American Standard. 'We are proud to recognize these inaugural winners.'
Winners were selected from a competitive pool of nominations and are featured in a video series playing across national and regional media through January 2019.