"I love that we are connected to subsidiary companies that have their own incredibly talented engineers. We can use some of the pieces they're developing, allowing FieldEdge to develop things faster and better. That means some really neat things are coming out in the near future."
FieldEdge
Powered by Training
Another aspect of FieldEdge software that Rausin points out is that it is also a teaching tool.
"It allows us to record phone calls, then go back and listen to those so we can see what happened on calls where something went wrong. Then our team can sit down with the contractor's CSR and/or dispatcher to figure out what happened and then do some coaching on what they can do differently to improve.
"The idea is it helps our customers be more successful," he says. "And that is why I believe FieldEdge is a nice match with National Comfort Institute. We have the same mission: to help contractors get better. To do that requires training. I believe that success is powered by training."
Rausin explains that from his perspective, many contractors started as field technicians who decided to start their own companies. He says most didn't know that running a business requires an entirely different toolset than fixing equipment.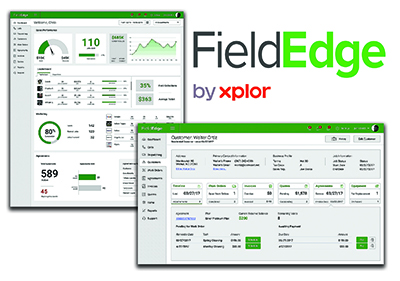 "In becoming businessmen, they need help through training and tools that make it easier to manage the company. The more education we can provide on using our software, the less painful the process is, and the faster they will begin benefiting from it," he continues.
FieldEdge Academy
When contractors first buy the software, Rausin says the FieldEdge team sits down with them and takes the time to help them learn it.
"That's great during the initial rollout, but unfortunately, when a contractor later hires someone, they often don't take the same time to train them. They are busy. They want something easy. Something they can look at and get the answers they need when it's convenient for them.
"So, we faced this reality and developed good quality training that's continually updated and accessed over the Internet. We call it FieldEdge Academy. This software continuously morphs and changes over time. So does the help content. This way, contractors can get the information they need to do their job.
"We try to do this training in small chunks not to overwhelm the tech, who doesn't want to spend two hours on a Saturday or first thing in the morning learning software. We have dedicated trainers and customer success managers who do ad hoc training on the fly and can also set up a dedicated training."
Rausin also says that the company is adding a new part to the Academy that focuses on best practices. He says it's not FieldEdge specific but more focused on how to be a successful contractor.
"We are covering things contractors didn't necessarily learn growing up in the contracting industry," he adds.
Click Below for the Next Page: