As he says, by doing things right, he managed to grow his one-person business in just seven years into a company with 36 total employees and fields 25 service and installation vehicles.
Airflow is King
Even in Novini's early days as a tech working for another company, he knew the key to making customers happy was finding ways to perfect airflow through a system and understand its impact on the refrigerant.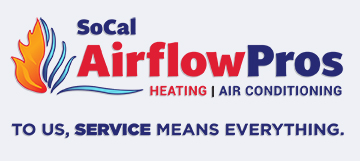 "Airflow is the most important part of a heating and air conditioning system, and that is why our name is Airflow Pros."
He learned a lot about the importance of ductwork at the company he used to work for and says that is why he focuses on ductwork.
"From early on in my career as a service technician, I understood that static pressure is the key to getting these systems to work right, achieve proper flow, and make every room comfortable per customers' wishes.
"So, when I struck out on my own, it was important that airflow was part of my company's name."
If You Don't Measure, You're Just Guessing
Novini says you have to know how to test it, measure it, and diagnose any issues to achieve proper airflow.
"You can't do that unless you are properly trained," he continues.
In that light, every October, he sends 100% of the field staff to training at the National Comfort Institute (NCI) Los Alamitos training center.
"We shut the company down for three days, which isn't fun on the books but is a fantastic investment in our team," he explains. "I believe NCI is all about how to perfect airflow. I also believe in the technical training from other organizations like the Air Conditioning Contractors of America (ACCA), Heat Exchanger Experts, Inc., Service Nation Alliance, EGIA, and others.
"Plus, three days a week we train our service guys in the technical and communication aspects of HVAC. We teach communication because consumers, especially heating and air conditioning customers, face a lot of scammers. As a legit business, you must be able to communicate well enough to prove to clients that you're not one of those crooks. And frankly, it's not that easy to do."
He says because HVAC work is technical work, technicians must be able to explain things in layman's terms to be clear to homeowners.
"But then I also need training. I certainly don't have all the answers," Novini says. "So, I participate in something called MAP Management Program. They are a consulting group that helps business leaders learn their weaknesses, how to fix them, and how to improve the other vital factors of management.
Click Below for the Next Page