Laser-Focused on Comfort
Forty-five years ago, in Gaithersburg, MD, The James A. Wheat & Sons HVAC contracting firm was born. In that year, many things were happening – Jimmy Carter had just become the 39th president of the U.S., rock-and-roll icon Elvis Presley died, and Nasa launched its first space shuttle – Enterprise – into orbit (to name just a few things).
Then, in 2018, High-Performance HVAC Today magazine profiled this family-owned company. Since then, a lot has changed, and some things remain the same.
Back then, the company cleared a total of around $5 million in revenue. In 2021 their combined revenue was $6.5 million (53% of which is from the HVAC side of the company).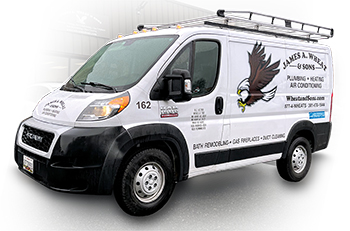 Their focus, since day one, has been on providing customer comfort in the residential service and remodeling
marketplace.
To do that requires a plan, a process, and a laser focus on training, which remains the foundation on which James A. Wheat and Sons operates. In that effort, the company, which currently employs close to 46 people, joined National Comfort Institute (NCI) in August of 2004 and began its journey on the path to High-Performance HVAC contracting.
According to Jeff Wheat, he first attended an NCI air balancing certification class in the late 1990s/early 2000s. He says his mother and brother took NCI classes before that. When he returned to the shop, he wanted to change how they did ductwork – from subbing it out to doing it themselves.
Training Is an Investment
"Our approach to training is the same today as it was in 2018," Jeff Wheat says. "From my perspective, if I don't train my people, who will? Frankly, I consider spending time and money on training an investment in our team so they can go out and do the work correctly.
"I would much rather get a young guy in, train him how to do things the correct way, and let him grow. I certainly understand that many contractors worry about spending so much money and time on training, and then the tech leaves.
"That is annoying," Wheat continues. "But at least I know that tech will be doing things correctly someplace else. That's the way my mentality has always been, and it's never going to change."
He adds that hiring technicians from other HVAC contracting firms who've been in the industry for 15 to 20 years is challenging because they often know nothing about static pressure, airflow, or even ductwork.
"Wheat says, "Those are the first things they should be checking on every home visit."
Sure, training goes beyond home performance for this company. Wheat believes strongly in staying up to date on anything technical, especially when manufacturers come out with changes that include variable speed and all the communicating features of that equipment. It's all part of providing customers with the best bang for the buck when it comes to comfort.
Click Below for the Next Page: