Take the Gamble Out of High Performance
Not every contractor's beginning story is the same, but history begins at a casino when it comes to this High-Performance HVAC company. First, some background: A young military veteran named Cody Novini worked as a field technician for a large HVAC company in Orange County, CA, when his wife gave birth to their third child.
He took a month off for paternity leave to help his family settle in with their latest addition. Paternity leave comes with a government stipend in California, and Novini received $3,500. That $3,500 earned him $4,000 very quickly.
"It was such a sweet feeling," Novini explains. "We had so much fun. I was an air conditioning tech by day and a card-counting blackjack gambler by night. I'd go to the casinos a few times each week and made a lot of money."
Unfortunately, he grew unhappy with the HVAC company he worked for, and he decided it made a lot of sense to spend more time with his family. Novini says between the money he had earned as a selling technician and the money won at the casino, he could leave his current employment. It was all about a lifestyle change.
The good news is that many of his friends, family, and neighbors still wanted him to service their air conditioning equipment.
Novini says, "I began doing work here and there and enjoyed myself. Then my customers began sending referrals, and I had more work than I could handle. So I decided to get an HVAC contractor license and see how things went."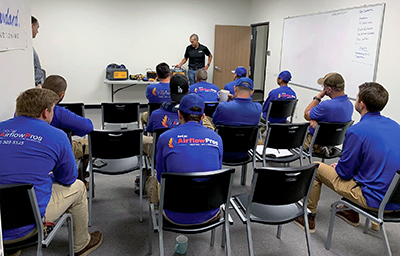 Doing Things Right
According to Novini, who served five years in the United States Marine Corps, his company focuses on residential HVAC work though they handle a small amount of commercial. He says the most important thing for him personally is to do things right for the customers. He says that approach pays off.
"I live in a community that heavily supports veterans," he explains. "As a veteran doing heating and air conditioning, I got a lot of work."
Two years ago, Novini says the company grossed around $4.4 million in revenue and then grew by 50% during the height of the pandemic last year to $6.6 million.
"Right now," he adds, "we're on pace for $12 million. We operate in Orange County, and that is an extremely hot market. Intelligent people have told me it's one of the biggest HVAC residential marketplaces in the country."
Click Below for the Next Page