TSI/Alnor EBT 731 Air Capture Hood
Look! It's a bird, it's a plane, no it's an air capture hood. Superman was the coolest: he flies, shoots lasers from his eyes, and even has X-ray vision.
For HVAC contractors, the TSI/Alnor EBT 731 Air Capture Hood won't help you fly or shoot lasers but will help you see your invisible nemesis: lousy airflow. Lousy airflow haunts every one of your customers' systems.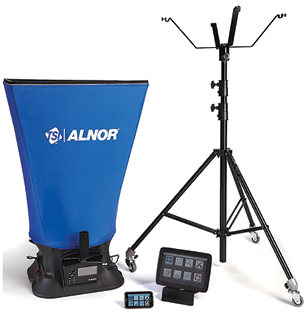 Using the EBT 731 Air Capture hood will expose invisible lousy airflow so everyone can see it.
Like Superman or any other of your favorite superheroes, you will stand out and be different from everyone else. Your appearance will change, you'll sound different, and the customer will never forget you.
The easy-to-use EBT 731 is a lightweight and ergonomically designed capture hood kit that conveniently provides multiple measurement tools in one package. The EBT 731 measures 25 to 3000 cubic feet per minute, enabling you to measure a variety of systems.
Even though the EBT 731 costs a little more than competitive instruments, it is one that I find I must have in my toolbelt.
Need to measure an out of reach return grill? Use the velocity matrix. Need to prevent catastrophic motor failure? Use the tubing and static pressure tips to turn the EBT 731 into a manometer. Heck, it even comes with its own carrying case.
The EBT 731 is a multi-tool that helps you discover airflow deficiencies with your customers' systems and gives you the strength needed to create the proper solutions.
With this tool, you can end up being your customers' hero.
National Comfort Institute includes the EBT 731 as part of their Pro-Pack product. Learn more at ncilink.com/ProPack.
– By Casey Contreras, National Comfort Institute Field Coach and Instructor