Written By HVAC Professionals for HVAC Professionals
NCI Static Pressure Stickers
For the November 2020 issue of the magazine, I decided to focus on a little-heralded product that goes a long way to High Performance: The Static Pressure Port Sticker. As an instructor for the National Comfort Institute, I often hear that the reason contractors come to our classes is to set themselves apart from their competition. HVAC contractors are always looking for an 'edge' over the other companies they compete against.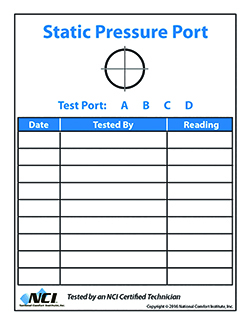 What NCI teaches helps them accomplish that by educating their coworkers on how to determine the 'High Blood Pressure' of the customer's existing HVAC system.
NCI's trademarked slogan, 'If You Don't Measure, You're Just Guessing?' becomes a mantra for the people who attend our classes. When you record static pressure readings, you stay ahead of any deteriorating trends developing in the system.
One of the many supporting materials we offer is the convenience of Static Pressure Stickers (ncilink.com/SPPort), which is the focus of this November 2020 review.
These self-adhesive 'visual' representations of where the HVAC professional installs Static Pressure Test Ports gives the added bonus of the quality of care you provide as a Performance-Based Contractor.
Use these stickers to record up to nine pressure readings with 'Date,' 'Tested By,' and 'Reading' on a durable white vinyl with a matte laminate applied for writing. It also allows you to mark whether it is Test Port A, B, C or D to be used in conjunction with the Air Upgrade Reports that NCI offers.
These stickers come in shrink-wrapped packs of 100 and include split crack-and-peel backs for easy application. They are only available for those companies certified by the National Comfort Institute.
You can also customize these static pressure stickers with your logo, which gives you another 'Why you should use me' arrow in the quiver against your competition.
? John Puryear, NCI Instructor