Written By HVAC Professionals for HVAC Professionals
New NSI 6000 Low-Level CO Monitor
After several years of careful R&D and design, including software and App development, National Safety Instruments (NSI), introduces the industry's first Bluetooth-enabled Low-Level Carbon Monoxide (CO) monitor. Professionals trained and certified by National Comfort Institute (NCI) exclusively sell the NSI 6000. It isn't available in retail stores or websites.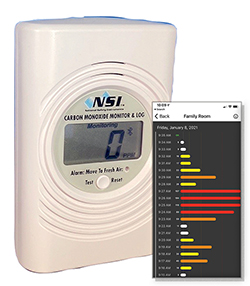 Because you need specialized training and tools to diagnose and correct low-level CO issues, NCI, the exclusive worldwide distributor of NSI products, only sells this monitor through qualified, trained resellers.
This unique new product includes a Bluetooth function that syncs the monitor with a smart device. Your smartphone or tablet then communicates with a cloud environment that securely stores activation data and any CO events data.
Another great feature: the NSI 6000 synchronizes new event information every time the monitor pairs with a smart device.
Furthermore, a long-lasting 3V lithium battery powers the NSI 6000, which makes it easy to install anywhere in a home. So now you can use this monitor in RVs, boats, vacation homes, hotels, or motels.
Not only does the low-level monitor alert occupants at CO levels of 15 and 35 PPM, but it also goes into full alarm mode at 70 PPM with no delay. This sets it apart from UL-listed alarms that can take up to 4 hours at 70 PPM to alarm!
In addition, this monitor comes with the same type of electrochemical sensor used in professional CO analyzers. Moreover, each monitor is 100% factory-tested in CO.
For more information on the NSI 6000 go to nationalsafetyinstruments.com or to become a reseller, go to ncilink.com/NSI6000.
— By Dominick Guarino, CEO, National Comfort Institute