Benefits
The biggest benefit I discovered about providing masks for your team, is that by wearing one, you become hyper-aware that you are wearing it. This keeps you focused on the situation and the potential dangers of contamination by touching things around you. As an added benefit, it keeps the wearer from inadvertently touching their mouth or nose should they touch an object the virus has contaminated.
By the way ' these masks can be cleaned and sterilized!! The fact is, viruses cannot survive at temperatures over 145F. So by putting the entire cloth mask with the filter inside, into an oven preheated to 170F for 30 minutes should sterilize it without damaging any of the material, filter or elastic.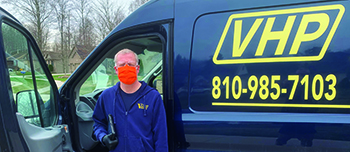 Imagine the looks on your technicians' faces when you deliver two masks to their homes ' one for them and the other for their spouse. You will be their hero! That is what Vincent's Heating did and trust me, it went a long way toward building employee confidence, dedication, and loyalty.
Hero Creativity
But why stop there? You can also share the 'recipe' for making these masks with your entire community. Check out how Vincents's Heating and Plumbing has done this on their web page: www.vhpinc.com/masks.
Vincent's is providing two free MERV-13 mask inserts per family. They are using an online sign-up form and also providing step-by-step instructions on how to make the masks as well as how to sterilize them.
The website also includes contact information for local seamstresses who can sew the cloth parts of the masks if the homeowner doesn't feel they have the skills to do it on their own.
Remember, this is a FREE service. It is a terrific way to help consumers ease their worries and it keeps your company at the forefront of their minds when they need help.
It's also important to remember that your messaging to the public is critical at this time. Vincent's Owner Daniel Squires also posted a video that highlights his face mask program and he even demonstrates how to wear the masks! You'll find that on the same page as the mask info, just scroll down.
Feeling Safer
Armed with these Merv-13 masks, your team can be safer, and you can help your customers feel safer too. Now you have to pump up the communications and let everyone know about it. Send out newsletters. Do social media campaigns. Send out direct mail. In other words, don't stop running the business. If anything, pick up the pace and let the community know you are there for them. The community will see these the action of a hero.
Part of this can include creating a Corona Virus Company Statement. Here is a free editable template you can download to do just that: ncilink.com/C-19Statement. Also, here is a sample Public Service Announcement you can customize for use in any local newspaper, television station, or radio show: ncilink.com/C-19PSA.
Finally, you can even help customers keep sane during these trying times with helpful tips and FAQs they can use right now with their families at home: ncilink.com/C-19SocialPosts.
You can do similar things on your website or you can link to these.
Click below to go to the next page