A few years back, we learned about a cloud-based visual report that National Comfort Institute, Inc. (NCI) created to simplify how we explain the HVAC system testing we perform. This report is called ComfortMaxx Air. At Copeland and Son, we've tested systems and performed duct renovations for more than 20 years, but knew there was something more we could add. We thought ComfortMaxx Air could be the key to get customers more interested in the products and services we offer.
After the NCI Summit meeting in Arizona last year, I learned so much more about the process. I was stoked for the next thing that would give us the edge we need to continue our Performance-Based Contracting' mission. Let me share with you some of the lessons learned along the way.
Improved Communication
I saw right away how ComfortMaxx Air allowed us to take field measurements and simplify their meaning using our iPads. This cloud-based visual report offers customers new information about their systems that they can easily understand ' something I often struggled with explaining. It helps us better communicate defects and problems found in customers' homes through testing.
Like all new things, there is a small learning curve to using ComfortMaxx Air. The first couple of tests require you to really pay attention to what you're doing. We found that it was important to focus on the system type before selecting it in the ComfortMaxx program. Plus, you must be sure to enter the correct values in the right fields.
There is a learning curve associated with using ComfortMaxx Air. It requires you to really pay attention to what you're doing, how you're measuring, and what type of system you are working on.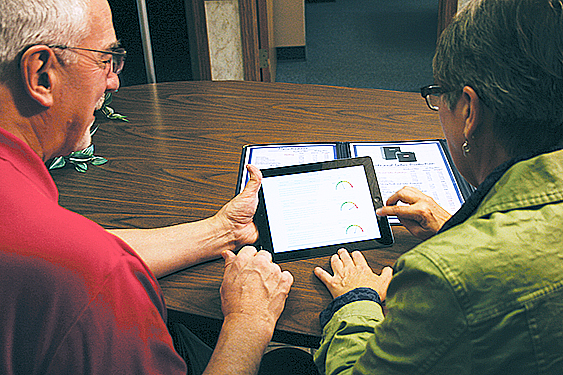 After conducting our third test using ComfortMaxx Air, the process really came together. For us, it starts at our office. Our office personnel do the front-end work by filling out the customers? 'informational' data in ComfortMaxx Air. Our technicians fill out the technical details while they are measuring the systems in the field. This didn't happen overnight. It takes a commitment to get here. There is training involved for both ComfortMaxx and the devices used to enter data. The results are worth the effort when you see the customer's reaction.
Being able to show them before and after results is an awesome feeling. Now we communicate with customers using visual reports instead of a bunch of numbers that mean nothing to them. The reports make it simple ' we shoot for 100%. If we exceed 100% on the deficiencies, we enter the 'Danger Zone' by Kenny Loggins (Think of the "Top Gun" movie). Once customers see the results, they understand them much faster than in the past.
Implement ComfortMaxx Air During Slow Times
So, once we overcame the ComfortMaxx Air learning curve, we had to decide where and when to start using it. Being concerned that jumping in with both feet would be overwhelming for everyone, we decided to start implementing ComfortMaxx Air's use during our slower periods. This gave us time to adapt and really learn it.
We began using it on every job during slow periods. We started with maintenance calls and progressed to using it on demand service calls. As we continued testing, we quoted more and more duct renovations. Using the reports helped sell these jobs and the slow periods started getting very busy.
Some jobs were simple register and grille upgrades, while others involved detailed duct system upgrades. The important part is we turned measurements into sales once customers used the report to understand our pressure and airflow readings. We also started using the reports as part of our test-out process. With a report showing the improvements made, our customers are assured they made the right purchase choice.
Our Results
Using ComfortMaxx Air led to amazing results. To make sure we remain busy, we plan to continue adding inventory through testing. One example of how quickly we began to turn things around occurred right after the NCI Summit in Arizona last year.
The first job was for a customer who had worked in the HVAC industry when he was younger. He was amazed at our results. I called NCI trainer John Puryear and consulted with him about duct work since it was difficult job. With his help, we were able to provide a solution that corrected the customer's return duct system issues.
Several jobs after that we started testing systems previous duct renovation work done within the past five years, according to NCI procedures. We wanted to see if we designed and installed them properly. I'm happy to say that after all these years, we still managed to nail the post testing.
As Copeland and Son continues testing and capitalizing on the average duct systems in our area, we find ourselves tackling more return duct issues than anything. Typically, we modify existing return ducts and add additional return ducts and grilles, along with IQ Air filtration. These return issues are rampant in our area and continue being created by contractors using the old rules of thumb.
I truly believe anyone who wants to improve their diagnostics, lead generation, and sales should seriously consider integrating ComfortMaxx Air into their service department. You'll make improvements for your customers and your bottom line.
To hear more details on how Copeland and Son uses ComfortMaxx Air, come see Nathan Copeland at Summit 2018 in Austin, Texas when he presents his session, 'ComfortMaxx Air: Put It to Work!?
Meet Nathan Copeland at NCI Summit 2018
High Performance HVAC Summit 2018 is happening March 4-6 in Austin, TX. Nathan Copeland is one of six Performance-Based Contractors' presenting how they Blaze A Trail to High Performance. Copeland, who is a comfort advisor for Copeland and Son Air Conditioning and Heating Service, Nashville, TN, will discuss how his team made ComfortMaxx Air a normal part of their service offering.
Come meet Nathan and network with your peers in Austin. Learn more about the Summit 2018 program at GoToSummit.com.
JOIN US FOR SUMMIT, STAY FOR SOUTH-BY-SOUTHWEST MUSIC FEST
Summit 2018 offers you and your team the opportunity to not only hear from some of the Performance-Based HVAC Industry's finest, but also a chance to network with like-minded contractors from across the nation.
Register today. Questions? No problem. Call 800-633-1850 and talk to your customer care representative.
After Summit ends, stick around for our Post Show Training classes and then head into downtown Austin for one of the world's best music festivals, South by Southwest. Click here for details.