Written By HVAC Professionals for HVAC Professionals
Fieldpiece MR-45 Digital Recovery Machine
Big yellow's done it again! Fieldpiece Instruments is no stranger to raising the bar for functional, durable, and accurate technician tools. Their affordable instruments allow thousands of technicians to accurately perform their jobs.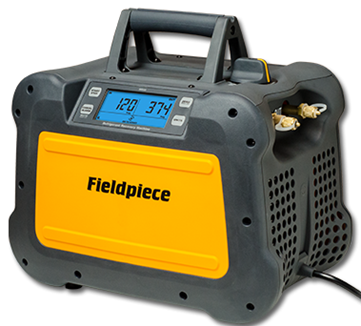 Recently I had the privilege of installing two HVAC systems for a close friend. It was a lot of fun because I got to go tool shopping!
I needed a refrigerant reclamation machine for this project, so I began doing my research. I remembered the great track record of all the previous Fieldpiece tools I've purchased. Their MR-45 Digital Recovery machine just made sense to me.
It also made sense for me to review this product for the next time you have to buy a new reclamation device.
The lightness of this machine surprised me. It weighs only 22 lbs. despite having an extra-large condenser which cools faster, especially on hot days. And, it is water-resistant and can work in direct rain.
Let's review another standout MR-45 feature: this device has a digital control panel with an input and output pressure display, plus several buttons to control and set up the instrument.
Furthermore, built-in Bluetooth makes it nice to turn the MR-45 on and walk away. I could focus on other tasks while keeping an eye on its progress remotely. That is a total productivity win! Built-in safeties also protect the instrument from catastrophic failure and promise a long life.
As always, Fieldpiece included one of the easiest operation manuals in the business. One cool attribute: no setup is necessary. It's pretty much plug-and-play.
Even though I won't use it as much as most other techs out there, I know this tool will still come in handy. By the way, I can't conclude this review without saying how well Fieldpiece stands behind its products, and for that, I strongly recommend the MR-45 Recovery Machine.
Go to ncilink.com/MR-45 for more information.
' by Casey Contreras, Field Coach, National Comfort Institute