TSI / Alnor 801 Rotating Vane Anemometer
When you encounter a grille, register, or diffuser that you can't measure with a balancing hood, the TSI/Alnor 801 rotating vane anemometer (RVA) is the quickest and easiest way to take your readings. The 801 RVA is also a great, compact instrument you can use to measure outside air intakes on rooftop package units, because it is very tolerant of windy conditions.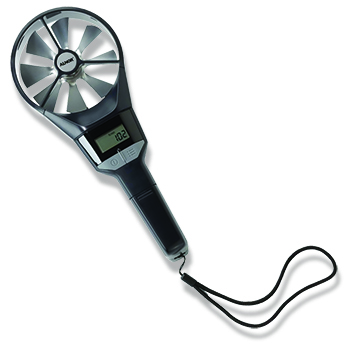 The TSI/Alnor 801 RVA measures air velocity, air volume, and temperature using a simple button and trigger operation. It will display readings in metric or imperial mode from 50 to 6000 feet per minute (fpm) or 0.25 to 30 meters per second (m/s). You can also program the instrument to read airflow in cubic feet per minute (cfm). It has a timed average feature that allows you to measure multiple readings over a large opening and then convert to a single, averaged value.
The TSI/Alnor 801 RVA comes with a four-inch vane that allows for a larger measurement area. The head also rotates, so the display always faces you whether you're measuring supply or return/exhaust airflow.
The instrument needs sufficient velocity for the vanes to spin at a consistent rate, so it is not a good choice when there is low air velocity.
The 801 RVA comes with an optional cone kit that is perfect for small supply or exhaust grilles up to 200 CFM. It also comes with a NIST-Traceable Calibration certificate.
For more information, visit the National Comfort Institute store at ncilink.com/801RVA.
Note: TSI/Alnor also makes similar models that are detachable and work with the TSI/Alnor VelociCalc (ncilink.com/tsi9565) multi-function ventilation meter, providing additional flexibility.
— by David Richardson, NCI Director of Technical Curriculum.