Three years before the onslaught of the Great Depression of 1926, two good friends decided to partner and start their own business. Wayne (Brig) Young and his hunting and fishing buddy, John Behler, left a company they worked for because they didn't like how the owner treated them. They set up a competitive shop four blocks away, and Behler-Young was born.
In 1926, many things were happening – many European nations were embroiled in small conflicts, Hirohito was crowned emperor of Japan, and in the U.S., coal was king in residential and commercial heating. The newly formed partnership focused on the ventilation side of the heating business, including sheet metal ductwork, asbestos insulation, grilles and registers, and more.
Third-generation owner Doug Young says they even had gutters as part of their product line, a variety of metal – galvanized sheet metal, stainless steel, copper, and so on. The partnership established a strong foothold in their Grand Rapids, Michigan market and survived the Depression by carefully managing their costs.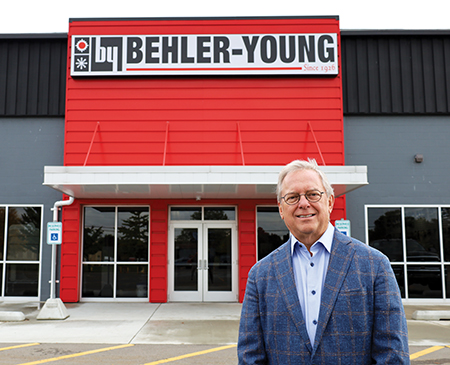 Early Operations
In those early years, Behler-Young in Grand Rapids operated by sending out a salesman to take orders, and then they would follow with trucks to deliver what they sold.
"My grandfather never wanted to do much work in Detroit," Doug Young explains, "but we covered the rest of Michigan."
The time after World War II marked a time of great growth and expansion in Michigan. He adds that John Behler's son, Jack, eventually joined the company and ran the sheet metal operation. Then in 1958, his dad, Dick, got out of the Army and joined the business.
Doug Young says that in the 1950's, small competitors were popping up around the state. "In 1960, to combat these competitors, my dad focused on finding interested competitive companies across the state and buying them."
He says that the first branch was in Traverse City, the next one in Kalamazoo, followed by a branch in Lansing, and so forth.
"This was the birth of the Behler-Young branch operations that we have today," says Young. "That changed how we did business. We started buying things centrally and shipping them out to those branch locations, and our business continued to grow."
He also says that before developing branch operations, the company took on its very first HVAC equipment line – the Luxaire brand. He says many contractors began buying the Luxaire equipment as their second HVAC product line.
Prior to Young joining the company in the early 1980s, he not only graduated from the University of Michigan with an industrial engineering degree but also earned a master's in business administration from Carnegie Mellon in Pittsburgh. Then, as a best practice before coming to work for Behler-Young, he worked for five years at a small family-owned business that supplied fasteners to the auto industry.
"When I joined the company," he says, "my father told me not to expect to be running the place. He said I had to earn that. Forty years later, here I am."
Changes in the Wind
In 1991 Behler-Young acquired the Bryant factory distribution operation in Detroit. That purchase made the company a significant player in Detroit. It was at this time that Doug Young became president of Behler-Young.
He says that his team built another distribution center in Brighton, outside of Detroit. They continued to open branches throughout Michigan and Northwest Ohio, most recently opening their 19th branch in Troy.
Click Below for the Next Page: