Seventy-one years ago, the United States was a very different country than it is today. The Second World War had just ended ' the peace treaties were signed in February, 1947 ' and the country was working, under Harry Truman, to get its footing back together.
The Great Depression was over and the economy was on the threshold of a tremendous growth spurt. But the average American still struggled to make ends meet.
In Afton, Iowa ' a very small rural town in the southwestern part of the state, John Holt decided he needed to develop more income than his farm was providing for his family. He began helping his neighbors by fixing plumbing and furnace problems in their homes. It really was just a sideline.
Back then Afton's population was under 1,000 (and it still is), so helping neighbors was just the right thing to do. And Holt was always about doing the right thing.
In those days he had no intention to go beyond that ' supplementing his income. As more people asked for his help, he wound up having to hire a helper here and there. Over the ensuing years, he needed to hire a full-time worker to handle the workload. Eventually his son, Lynn, got involved in the business.
Lynn saw the potential of this plumbing and heating sideline and decided to grow it. He began reaching out to bigger communities for more jobs.
Building a Solid Reputation
With a strong work ethic, a servant-leader mindset inherited from his father, and a mission, Lynn made Holt Plumbing and Heating into a full-time business. Today the company is located in West Des Moines and and services Des Moines Metro as well as surrounding areas, including Winterset, Adel, and Creston.
Because his focus was always on the customer first, Lynn was a strong proponent of learning about better ways to make them happy. From customer service to new ways of repairing and replacing HVAC equipment and plumbing systems, he was on the lookout to improve and grow.
He wanted to be professional. And, he wanted to be profitable.
That lead him to join membership organizations like Contractors Success Group (CSG), where he learned the basic tenets of managing a small business. CSG, eventually through a series of acquisitions and mergers, became part of National Comfort Institute in 2008.
Throughout these changes, Lynn maintained membership and trained his troops ' both technically and in the art of having great people skills. He officially joined NCI back in 2008 and the company remains an active member to this day.
Holt Plumbing and Heating Today
Today Lynn and his wife Dixie remain active in the business, but son-in-law Josh Potter is the general manager who runs the operations at their side. Potter explains that it was under Lynn's tutelage that he has been able to be successful.
'I joined Holt in 2013 as the company's general manager and Lynn provided me the training ' both classroom and on-the-job – I needed to be successful,' Potter says.
'It is through his vision and dedication to a customer-first approach to business that this company became and remains successful. My job is to keep that up and take it to the next level.'
Today Holt Plumbing fields 23 service and installation vehicles split between HVAC and plumbing. The company employs 36 people including two who work in a relatively new 'division' called the Home Service Division.
Potter says this business unit started out originally as a way to provide better customer service.
'As a plumbing organization, we often must cut holes in walls to gain access to an area,' Potter explains. 'We used to recommend local drywallers that do great work to repair those holes. But there was an issue: these drywall contractors were so booked up that they couldn't make it to our jobs in a timely manner.
'So, we hired our own drywaller. We started off with one and just recently hired another. This service turned into doing a lot of really basic home repairs. For example, we just finished hanging 30 framed photographs for a customer. The Home Services group does that as well as complete kitchen and bathroom remodeling.'
Potter adds that the Home Services division creates great leads for the HVAC and plumbing business and vice versa.
Training is a Must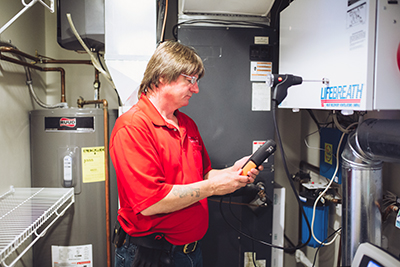 Like his father-in-law, Josh Potter believes in continuous education and training. He says, 'When a customer hires us, they expect us to be professionals. They aren't interested in incompetency.
'The only way I can get new technicians up to speed is to pair them up with other technicians. I have new techs go through several months working with our experienced and trained technicians before they start doing their own jobs.'
Potter adds that they also take advantage of their NCI membership by bringing in trainers like Jim Davis to teach his team the ins and outs of combustion and carbon monoxide safety.
'This is a must,' he says. 'Our people and our customers' safety and well being are at stake.'
He further highlights the importance of people skills. 'We not only fix customers' mechanical problems, we also must be able to fix customer issues ' comfort, energy concerns, safety, whatever. It's also about communications. Our people MUST be able to communicate in a way that customers can easily understand and that answers their questions, their concerns. That is the only way I know how to not only fix systems, but people too.'
Performance-Based Contracting is the Holt Way
Potter says his experience in working with NCI and being trained to look at much more than just mechanical equipment really helped lead the company down the high-performance path.
'Thanks to NCI, we understand the importance of measuring. We have made performing HeatMaxx' and CoolMaxx' a part of our membership maintenance program for our customers.,' Potter explains. 'We do them on every maintenance call.'
He cites this data collection as a key differentiator over his competition.
'We do a good job of collecting data and storing it, so we have it for future use for customers. The data provides us with a baseline. When we start to see things trending negatively, we can pull the history and show the customer that trend. Then we make recommendations on what needs to be done, and let them decide.'
Results for the Customer
He also says they have the ability to explain the results of those tests in a way that the customers can really relate to.
'It's not just a tech talking techie to them. We have data to back it up. And we compare that data to the readings doctors use when they take blood pressure, temperature, and so on. It gives customers more confidence that we are not just guessing.'
It's all about the performance of Holt's technicans in the field as well as the performance of their customers' comfort systems. As Potter says, fixing customers is just as important as fixing the technical things.
Performance-Based Sales
Potter uses the NCI HeatMaxx and CoolMaxx reports to collect and present data to the customers.
'To me, it is about how we make a presentation in the home,' he explains. 'I do the Manual J load calculations with a pencil. Why? Because as I sit there calculating the load, they start to ask questions. That lets me start to build a conversation.
'For me, I want that personal touch. I want to help them understand what we are doing in the home, so they fully
understand how much I care, how much effort I put into their estimate.'
He adds that going over the manual calculation takes about 20-30 minutes with the customer ' something that few if any of his competitors do. And that sets Holt Plumbing and Heating apart.
'The load is just part of the equation. We figure out what size of equipment they need. We look at their current ductwork and talk about ways to add additional returns, supplys, or how to modify it to help with their comfort.
'That process starts to unravel the idea that I am just trying to sell a box. I am here to look at everything that impacts comfort.
'I typically bring the customer with me down into the basement to help measure things. And we talk the entire time. Again, it all goes towards me building a custom package to really get their system to perform the way it was designed.'
The Customer Experience
Josh Potter says he has always been a numbers guy. As such he knows that to do all the things necessary to provide high-performance services, he has to price his work properly. This is key to Holt's duration and success. He jokingly says, 'We are definitely not known to be the Cheap Charley in town for sure.'
To successfully sell duct renovations and air upgrades, which typically carry more intensive labor hours, he feels the customer absolutely must understand what they are buying and why that is important. He says that when he goes through the measurement and data collection process ' sometimes even having the customer help him do it ' they are much more willing to spend more money.
'If what we do makes sense to them, if they see the true value of our services, not only are they willing to spend the money, they aren't interested in any cheap Charlies,' he says.
'It is an education process for customers. People are a lot smarter than many contractors give them credit for. Once they understand, you almost have them as customers for life. Again, it's about providing a unique service, great experience, and a terrific result. That is what Holt Plumbing and Heating is all about.'
The Technician Experience
Beyond fixing customers, Josh Potter says that the Performance-Based approach really impacts his technicians as well.
'They find it more interactive than just showing up at a customer's door with a bucket of tools and a fix-it mentality. They love using their minds, running tests, interpreting the measurement data, and basing their recommendations on that,' says Potter.
He also says that they seem to appreciate a work environment where everyone looks to improve. In fact, he says the techs often feed off each other when it comes to solving tough problems.
For the technicians who work for Holt Plumbing and Heating, the Performance-Based approach stokes their curiosity. Josh Potter says we all should take a lesson from that.
On the customer side, Potter sees that comfort sells. 'If I can collect the data I need, make changes that need to be made, and deliver comfort like they've never experienced before, they will pay for that.'
Curiosity is the Key
'I think HVAC contractor owners always must be curious in all aspects of their business. If there is something that you don't know or understand you need resources you can turn to.
'Participating in an organization like NCI is also important. That is how you build a network of your peers.'
Congratulations to Holt Plumbing and Heating for being the August 2018 Contractor Spotlight.