Summit 2024 Registration is Now Open
Ladies and Gentlemen – The High-Performance HVAC Summit 2024 registration site is now open. So many good things are coming down the pike, but you need to register your team to hold your spot.
First, the details: Summit 2024 will be at the Crowne Plaza Asheville in Asheville, NC, from September 10-13, 2024. Nestled between the Great Smoky Mountains and the Blue Ridge Mountains, this hotel is a pet-friendly property near downtown Asheville.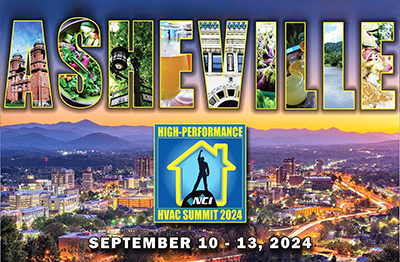 Besides being a premier spot for our event, it is also a destination city offering you, your team, and your families access to many great things to do, including walkable neighborhoods with an array of independent shops, craft breweries, and some of the best dining options in the southeast.
Register Today! Click this link to start: gotosummit.com/summit-registration. Early registrants get several bonuses, including access to the FULL 2023 SUMMIT RECORDINGS.
If you missed the 2023 event, these recordings will provide you with many hours of great ideas from the breakout sessions, the general sessions, and more. But you must register your team for 2024 by December 31, 2023, to have this access.
Also, if you register before the deadline, you will receive the Early Bird discount and save $100 on your first registration. NCI members and premium members receive additional discounts, and can use NCI Bucks to pay down the cost AND earn NCI Bucks on the dollars they spend (saving even more).
Discounted Hotel room reservations within the NCI block open in September, 2023.
If you have questions, call your Customer Care Representative at 800-633-7058.
---
The Value of Onsite Training
Many HVAC contractors are discovering the value of bringing NCI training onsite to their facilities. The same NCI Certification training we offer all year can be delivered right to your doorstep.
This flexible and cost effective option is ideal for training a group or launching a company-wide implementation of new services. Plus, because we come to you, there are virtually no travel expenses and your team spends more time training with NCI instructors.
You'll also save on productivity costs as field work and large projects won't be put on hold. NCI training can be delivered as our standard curriculum or completely customized to match the training goals for your team.
Think about setting up onsite training for your team this fall. You have nothing to lose and everything to gain. Call 800-633-7058 and learn more how onsite training can help you and your team.
---
Did You Know … About AirMaxx Lite™?
Are you aware that National Comfort Institute (NCI) has developed a mobile app called AirMaxx Lite™? This app does not require a data plan but allows you to enter your HVAC system test measurements and then calculate and "grade" the system.
AirMaxx Lite™ is a free-version of AirMaxx™, a full service mobile app available only to National Comfort Institute members. AirMaxx Lite doesn't do everything that the full version does, but is good enough to help your field team calculate TESP (Total External Static Pressure) and communicate HVAC equipment delivery performance relative to its rated static pressure.
By the way, you can see your raw measurement inputs and resulting calculation values displayed on screen for verification.
AirMaxx Lite is available for both Android-based and iOS mobile devices. Its interface allows easy data entry and easy-to-display reports for you to share with homeowners.
If you are an NCI member, you automatically have access to the AirMaxx app. AirMaxx does everything that AirMaxx Lite does, plus it helps you calculate pressure drop across coils and air filters.
It also helps calculate supply and return duct static pressure, and much more.
Learn more about AirMaxx Lite at airmaxxlite.com. Start your team using it right away.
Questions? We have the answers. Call your Customer Care Representative at 800-633-7058.