In 2016, Basnett Plumbing and Heating of Littleton, MA, was the subject of our Spotlight Series. Back then, owner Rob Basnett talked a lot about the early days of starting the company, the struggles he faced, and introducing High-Performance Contracting™ into the daily culture.
One thing that kept the freshman company out of trouble was Rob's penchant for learning and his mission of continuing education and training. Not just for him. He wanted those benefits for his entire team.
"Education and practice are the keys to success," he said in 2016. "As the team gets better at doing testing and system performance work, we experience fewer consumer problems we can't solve."
Five years later, that has not changed. But other things have, and with the fallout from COVID-19, some things will remain changed permanently.
Then and Now
In 2016 Basnett Plumbing and Heating focused on the residential marketplace, with 97% of the gross revenues coming from that sector and only 3% from commercial. Plumbing accounted for 32% of those revenues, while hydronics work stood at 26%, and HVAC was 42%.
In 2021, the overall revenue picture, according to Basnett, is double what it was in 2016.
"The pandemic didn't hurt us much either," he explains. "We are slightly ahead of where we were in 2019. Sure, we lost some revenue during the first quarter of 2020 because the pandemic caused everything to shut down."
Post-2020 Company Today
Today, Basnett employs 23 people, which is up from the 14 in 2016. "Last year," Rob adds, "we did a total of $3.9 million in HVAC and just $900,000 in plumbing."
In 2021 he says they are on track to hit $5 million.
He also points out several other significant changes in the company since we did our first profile. The biggest is a company re-organization.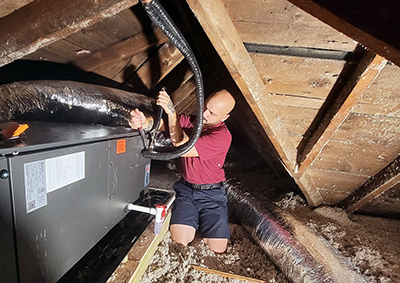 "During the past five years we divided the company into profit centers. One center focuses on service — the other on installation. For years I had them under one center, but that didn't work for everybody," he says.
"By splitting them up, we can now incentivize the technicians on the actual work they do. As I did five years ago, we set goals at the beginning of the year. I then use a spreadsheet to track everything and meet weekly with the guys to see how well they are doing."
The company also sets revenue goals for ancillary sales, including service agreements and accessory add-ons on the service side. Basnett says installers have different goals.
"Those relate to how many jobs they get done and what the end revenues are," he explains.
The Need for Incentives
Like many HVAC contractors today, Basnett always seeks more technicians. Rob says there is a difference in work ethic between different generations, which has been a challenge. So they've changed how they recruit, train, and incentivize younger people.
For installers, that means creative incentivess.
He says, "We calculate each job for x-number of hours, so the techs know how many hours they have to finish the job. If they do it in the allotted hours, they get a 1% bonus based on the total sale price. If we sell the job for $10,000, the bonus is $100 if they finish the installation on time."
Basnett takes that further. If the installer completes the job under the scheduled time, they get 1% of the sale price plus their wage for every hour they went under the expected time!
For the service side, Basnett has an entirely different program. One of the primary metrics, according to Rob Basnett, is the number of callbacks. If a technician has zero callbacks in a month, he or she receives $500.
Click Below for the Next Page: