Digital Service Solutions
Right-J Mobile
Every professional contractor in the HVAC Industry is familiar with load calculation software and most are familiar with Right-J from Wrightsoft.
The company has created a mobile version of its Manual-J load calculation software that quickly and easily creates an ACCA-Approved Manual J8 block (whole house) load with eight accompanying reports.
Designed for use with mobile phones, tablets, as well as computers, Right-J requires an Internet connection. It allows you to access files from all your computing devices and instantly updates based on the information you enter and change.
It works in three steps:
Customer set-up screen
Draw the building footprint
Choose building details.
Building details include choosing the wall, ceiling, and floor R-values, materials, infiltration, glass area percentage, and more. This info is submitted to the Wrightsoft servers via the Internet, which instantly computes the load and sends the results to the handheld device.
Results are viewed on the handheld in chart form showing each load. The information can then be imported into the full Right-Suite Universal application to create more complex room-by-room designs.
For more information, visit the Wrightsoft website at ncilink.com/RJM.
---
Job Costing and Installation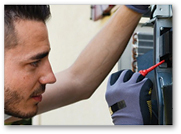 SAWIN Service Automation, Inc. provides enterprise level software solutions for managing an HVAC company. One of its modules, SAWIN Pro Enterprise Job Costing and Installation, provides access to the firm's complete suite of job costing software.
The software uses easy-to-use templates that you create for job estimates. Templates allow your team to choose equipment, parts, and materials from inventory and labor amounts, using user-defined price sheets and margins. Proposals can be created in the field or in the office and turned into contract jobs if accepted.
In addition, they have a mobile installer solution that helps you manage your installation teams by instantly transmitting installation assignments, work orders, and tracks their progress in the field.
The mobile solution eliminates redundancies including double entry, hand-written payroll slips, and user error.
Go to ncilink.com/SJC for more information and a demonstration online.
---
FieldAware Cloud-Based Service Management
This field service platform enables you to integrate it into your existing systems, without having to disrupt ERP, CRM and/or accounting systems. It can communicate with other Web-based products, enabling the bidirectional transfer of data and automating the service chain.
This software is designed from the ground up as a mobile solution. Among its features:
Efficient scheduling and dispatch
Real-time visibility into work order details
Easily integrates into existing ERP or CRM systems
Fast and easy invoicing.
FieldAware also creates what they call 'actionable reporting' using dashboard reports customized for your management needs.
In addition, FieldAware employs bar-code scanning to help you instantly find inventory, asset history, order history, and customer history.
For more information and a demo, go to ncilink.com/FieldAware.
---
Online Residential HVAC Loads and Duct Sizing
Elite Software's RHVAC Online software is a web application that runs on all internet devices including iPads, tablets, computers, and smartphones. It can do all three code-required ACCA Manual J, D, and S calculations.
RHVAC is available in both desktop and web-based versions. The desktop has a one-time fee and works on all Windows-based computers. The online version is subscription-based.
Both calculate peak heating and cooling loads (both block and room-by-room) for residential buildings and some light commercial applications in accordance with ACCA Manual J, D, and S.
Both include a complete ACCA Manual D duct sizing capability and a complete Manual S equipment selection.
You can enter data manually or automatically import it from a floor plan drawn with the optional Drawing Board program (available only within desktop RHVAC).
The Heat Transfer Multipliers (HTM values) for all the walls, windows, doors, and roofs listed in Manual J are automatically looked up by the software as needed. Additional construction materials are easily added as well.
Among its many features, RHVAC has design weather data for over 2,000 cities built into the software. Users can revise the existing weather data and add more data as desired.
Learn more by visiting the Elite Software website at ncilink.com/RHVAC.
---
ComfortMaxx Air? Cloud-Based Testing Tool
This subscription-based, easy-to-use, cloud-based testing tool from National Comfort Institute, Inc. (NCI) allows you to record and calculate System Airflow information based on static pressure measurements. Subscribers must be NCI-certified in order to use any of the ComfortMaxx programs.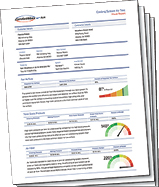 ComfortMaxx will help speed up and simplify your testing process and helps hold your technicians accountable. As a result, you can generate high-quality leads and wow your customers with professional and easy-to-understand reports about their comfort systems. This will help differentiate your company as a Performance-based leader in your marketplace.
ComfortMaxx Air allows you to:
Test static pressure and airflow
Track customer information (for single or multiple locations)
Separate heating and cooling tests
Create customer reports based on location type: residential or commercial
And so much more.
Full toll-free support is available and you can enroll up to four additional users on the application itself.
For more information, contact National Comfort Institute at 800-633-7058.
---
ServiceTitan Pricebook Pro
ServiceTitan recently released its new premium price book, Pricebook Pro, a proprietary solution that integrates seamlessly into the platform in as little as two hours.
ServiceTitan Pricebook Pro integrates seamlessly with ServiceTitan's technician-specific toolkit, providing pre-populated images to enhance estimates and generate higher sales.
According to a press release, this turnkey information helps drive top-line sales and protect margins while improving estimate accuracy and technician efficiency.
With preloaded services, images and price calculators, it's easy to get Pricebook Pro up and running. Features include the ability to:
Browse and select content
Use in-app tools to make customizations
Plug in material markups, billable rate, and surcharges to generate your prices.
For more information on the Service Titan Pricebook, go to ncilink.com/STPriceBook.
---