The Newest NCI Member Training Videos Are Online Now
Another great benefit of being an NCI member is having access to the video training library. Over the past five to six months, we've recorded more how-to videos specifically for High-Performance HVAC contractors. The short videos are focused on helping you on your High-Performance HVAC™ journey.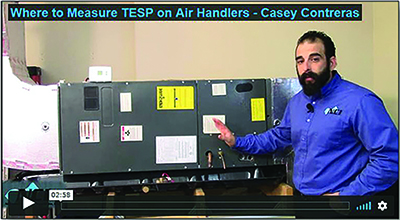 Two of the new videos are hosted and taught by Casey Contreras – an NCI field coach and trainer. These include Where to Measure TESP on Air Handlers and What Instrument Do You Need to Complete a Certification Report. You can find them at ncilink.com/vidlib.
All NCI videos are very hands-on. Each of the two newest videos is under four minutes long.
They hone in on specific skills that your technicians need to measure TESP on handlers successfully and what instruments they need to complete a system certification report.
If you have any questions or need help accessing the video library, call the NCI Customer Careline at 800-633-7058.