The HVAC Business Cycle
The HVAC business cycle basically takes a contractor through all aspects of the customer engagement process. This includes:
How customers can find a contractor when they have a need or want. Middleton says they have specific workshops developed that help with this.
How to turn that inquiry into an appointment. This curriculum focuses on call conversion and setting the appointment.
How to determine what problems there are. 'We have workshops covering problem identification and making sure contractors have the right tools and the right knowledge to be successful in finding the problems,' says Middleton.
How to present HVAC solutions to the customer after the problem is identified. This must be done in a way that gives customers options and still puts them in control of the buying decision. The Toolbox has course work on this aspect that teaches techs how to work through the problem solution
How to get paid for the solution. The Toolbox training has a compensation-for-services-rendered section. This includes providing a way for customers to pay in the way they want to pay. Middleton says that if the contractor has done everything right and created a great experience for their customer, they should have a customer for life.
The last step is developing a marketing plan.
Rather than being a linear training model, Middleton describes this as circular. 'You can start at any one of those points in the circle and work your way around,' he says. 'This is how you learn. You keep tightening up the processes around those key aspects of the HVAC business. You learn some more. That is the heart of the entire Goodman Business Toolbox.'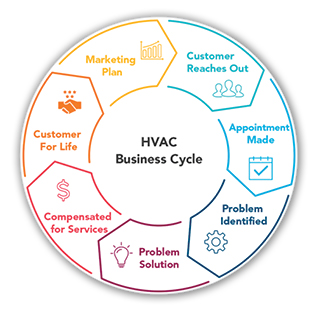 In 2019, the development group grew to 50 people and they took all the Goodman and Amana brand solutions vendors they worked with, married them up with Goodman and independent trainers, and refined the Toolbox workshops.
Middleton says, 'Today we are up to more than 50 different workshops for both territory sales managers and our dealers. It is all mapped out. We have a complete roadmap that any HVAC contractor can go through.'
He adds that the mission today is one of refining and polishing. 'We want to work on improving the overall experience. We are looking at all the different tools and ways people learn today versus how they have over the past 20 or 30 years. This includes how to better incorporate technology into the training.
'A big change now will come from how we incorporate and use these new teaching technologies.'
Again: This Training is Open to the Entire HVAC Industry
Middleton wants to emphasize that the toolbox training is available to any HVAC contractor in the industry, whether they sell Goodman or Amana brand HVAC products or not.
'In that light,' he says, 'we allow dealers to see our curriculum and look for a workshop in their area. If they don't see one, they can request it. When a distributor sees enough requests coming through, they can organize a workshop based on those requests.
'In other words, every aspect of the Goodman Business Toolbox and Amana Brand Business Academy is open to the entire industry,' he adds.
Furthermore, he says this training works in conjunction with other training available in the industry.
'Our goal was never to compete with any training organizations, franchise groups, or associations that contractors belong to. I think they all have extremely high value to the group of contractors they serve. We want to be a few different things for the groups:?
1) To provide a solid foundation before contractors take part in other HVAC Industry training groups/organizations. He says that means they want to help set contractors up for success, to be a source to help contractors lay that foundation.
2) To set up the workshops as supplemental training for every other organizations' training programs. This way contractors have a lot of localized training through their distributor. Then, when they go to regional or national training events, they can build on the basic training Goodman provided.
This is a big investment for Goodman, and Middleton says the overriding factor is the value it provides contractors. For existing Amana brand and Goodman dealers, they can be more profitable and be better qualified to sell more product. They also will be able to get their name out and be in front of more customers.
'On the other hand, if they aren't selling Goodman and Amana brand products, we invite them to come in and try on our training, check out the distribution branch, and we would hope if they like what they see, maybe they will allow us to do some business with them as well.'
Click Below to Go to the Next page: