Popular On-Boarding Training
National Comfort Institute's Online University is a digital library of training that members and non-members can use to train their staff in various disciplines of a High-Performance HVAC company.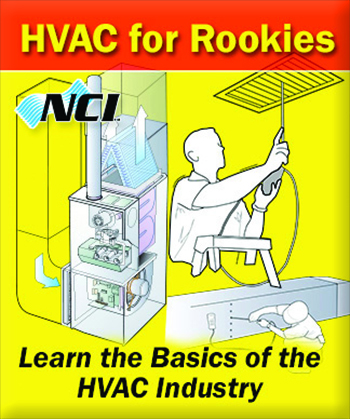 NCI Online University also offers business and customer service training. The HVAC for Rookies class, for example, takes what can be a very complex business and breaks it down into manageable chunks of information.
This offers the office staff an idea of the big picture of what HVAC companies do. Furthermore, you can repeat these classes as often as needed, unlike a live class.
For example, Alana Ward, owner of Baggett Heating in Clarksville, TN, says, "I love HVAC for Rookies. The benefit for me is that the presentation materials are professionally done, compact, and deliver consistent messaging for every single person who watches it.
"I also love NCI's Online University. We make a lot of use of the Airflow and Diagnostics modules as well as the online live classes. We are a small company and it's so hard to dedicate the time and dollars to send people to training classes. I know training is important and being able to have access to these classes online, with no expenses involved, is a game changer for me."
So, if you are looking for an easy way to provide on-boarding training to new office, field, or other team members, consider using NCI's Online University. HVAC for Rookies is just one of dozens of virtual courses NCI offers online.
Go to ncilink.com/OLU to see all the Online University courses that are available. Or call your customer care representative at 1-800-633-7058.
---
Why Attend NCI's Summit 2023?
Each year, the team at National Comfort Institute solicits input from Summit attendees to discover what they liked, what we can improve, and why. This year's program is a direct result of those inquiries. In other words, this is the Summit that YOU, asked for.
For instance, this year's workshop format is genuinely different in that it breaks the traditional "seminar" approach. Here's how it will work:
Attendees will be divided into four teams. Each team will go through four discussion-style workshops throughout the three-day event. Each workshop will be led by an NCI instructor who will moderate the session and keep it on track.
This is designed to draw from the "Wisdom of the Crowd." As a result, attendees can now share their successes and failures in each agenda area. This knowledge will help you make high-performance an integral part of your company's culture and business model.
BONUS: NCI plans to record all Summit 2023 sessions and make them available to every \attendee so you can review your four sessions and the other three sets of sessions from the other teams. That's a total of 16 workshop recordings! This will allow you to extend learning beyond Summit 2023 Week to help you and your team implement solid best practices year-round.
With this in mind, call your customer care rep for more information at 1-800-633-7058.
Then, join your fellow High-Performance HVAC contractor peers in Branson, MO, from April 17th to 20th, 2023. Be sure to find all the details here: gotosummit.com. Register at: ncilink.com/23SummitReg.
---
NCI Announces Summit Keynoter
National Comfort Institute (NCI) recently announced that former pro female football player Jan Spence will address attendees on leadership lessons during Summit 2023 in Branson, MO.
Spence shares how pursuing her life-long dream of playing professional football led to the unexpected opportunity to affect change through powerful words and simple actions. Applying her "Cheer Leadership®" approach in HVAC sales and service builds stronger connections, increases trust with prospects, customers and employees, and ultimately increases productivity.
Attendees will learn to:
Implement practical ways to encourage and connect with prospects, customers, and colleagues through sales and service.
Discover and use their new Cheer Leadership® skills in the workplace to increase productivity.
Create a plan to have deeper connections with employees and clients in a distinctive way to increase sales, engagement and loyalty.
We hope to see you in Branson in April.