Start Your Engines! Trailblazer Coaching Is Off to the Races!
Ladies and gentlemen ' it's back, better than before because it was designed and tested by HVAC contractors who participated in the inaugural program launched last year. High-Performance Trailblazer Coaching 2019-2020 launched on May 1st.
Trailblazer Coaching is the result of requests from many NCI Summit attendees who wished Summit was ongoing so they remain motivated to implement what they learned after they got home. We listened and now bring you this monthly service.
For as little as $35 per month, you can participate in 12 monthly High-Performance Trailblazer Coaching sessions with fellow HVAC contractors from across the country!
Here's How it Works
Trailblazing Coaching sessions are held on the first Friday of every month at 9 AM Eastern time. Each session is a highly interactive 45-minute web meeting, led by NCI coaches.
Your first session includes a 30,000-foot overview of the entire coaching plan where you can ask questions and provide input on the areas where you might need the most help with.
In each of the next 10 sessions, your coaches will lead the group in a discussion on two of the steps on the Trailblazer Roadmap. During the final session, just before Summit 2020, you will review where you've been, discuss successes and failures along the way, and map out your game plan for the next 12 months.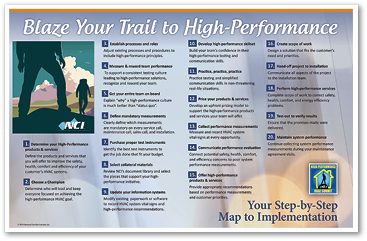 The map shown in the image illustrates the 20 areas that will be covered in the online coaching sessions. Each area is a key element to the successful implementation of High-Performance Contracting.
Breaking the process down into these bite-size steps will help ensure your success without overwhelming you and your team.
So, who are the coaches?
David Holt, Director of Business Training and Coaching, National Comfort Institute
David Richardson, Curriculum Developer and Instructor, National Comfort Institute.
There is special pricing for members like you, who can also apply their NCI bucks toward the cost.
Go to ncilink.com/TrailBlazeReg to register today. Don't waste another minute!!!
---
Did You Know …
… that your membership gives you access to NCI's extensive Online University? This is a virtual Performance-Based training facility that is available to you online, 24/7/365. It provides advanced technical courses, business management courses, as well as courses focused on customer service training.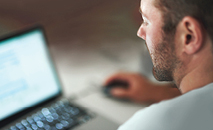 NCI also has a series of webinars that are recorded and available. From owners and managers to office staff and field techs, you'll find the training you need for every type of employee ' at all learning levels.
Some benefits of this library of courses:
Reinforces in-person training, and can help prepare for in-person training
Enables you to train all of your employees – affordably
Gets your entire staff on the same page
Saves travel expenses
Supports your Performance-Based Contracting' culture
Numerous courses qualify for NATE CEUs
Just go to ncilink.com/OnlineU to see what is available, and get started today.
---
?