2018 AHR Exposition Breaks ALL the Records
Chicago is the grand poo-bah of cities, especially when it comes to the HVAC Industry's annual meeting place — the AHR Exposition (AHR Expo). This year saw the event breaking six all-time records, including total attendance of 72,000 souls with nearly 50,000 registered visitors.
The Expo, which began in 1930, provides a unique forum for the entire HVAC industry: OEMs; engineers; contractors; manufacturers; distributors; commercial, industrial, and institutional facility operators; and educators. This year it ran from January 22-24 at the McCormick Place convention center. The 70th consecutive showing of the expo was celebrated by? Show Manager Clay Stevens, who said, this year's excitement was "palpable from the show floor to the training sessions."
By the way, the 2018 show had more training sessions than ever before! The educational sessions also drew very healthy crowds both in the convention center and at the ASHRAE headquarters hotel, the Palmer House. Among those conducting training and education sessions at McCormick Place was a team from Cleveland, OH-based? National Comfort Institute, Inc. (NCI) and National Balancing Council (NBC).
Ben Lipscomb, Rob Falke, Mel Johnson, and Scott Fielder taught four classes, some of which had standing room only. The classes were:
Easily Quantify HVAC System Efficiency Loss Caused by Poor Installation –
Solve Hidden Maintenance Issues Using Testing and Balancing
From Estimate to Occupancy; Critical Documentation for Every Test and Balance Project
Why Residential Air Balance is being Required by Code.
For more details on their classes, please follow this link: ncilink.com/AHRClasses.
So What Was There?
You name it — every product and service know for HVACR and sheet metal contractors were on display. In fact, there were 2,155 companies exhibiting this year, up from the 2,118 exhibitors last year. Always amazing are the number of countries represented at AHR: this year 169 were there, just slightly up from last year's totals.
For the Performance-Based Contractor, the expo was a cornucopia of test instruments and products. We saw the latest airflow hoods, air velocity meters,
hydronic manometers and more from TSI, Inc. Diversitech's fans and filtersstood out. Ultra-Aire's humidity controls, dehumidifiers, and IAQ equipment were on display. There was something for every one.
Next year AHR Expo will land in Atlanta, GA. NCI and NBC will once again be presenting a number of classes and will continue as an endorsing partner of the event.
The February Photo of the Month Winner is …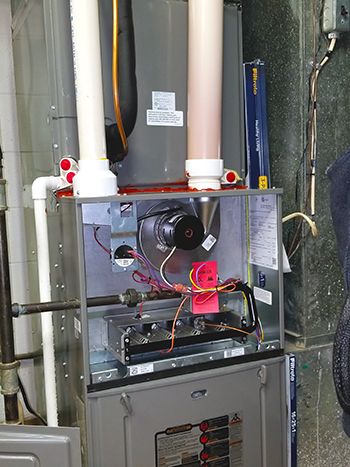 In our February issue, Andrew Ferrell, of DM Select in Burke, VA took home the "Bad" title in our monthly photo contest for his image titled, "Pure Idiots."
He found that someone replaced a 90% AFUE Lennox Pulse furnace with an 80% AFUE furnace. Whoever did that installation reused the same PVC flue pipe. Thus his headline.
Congratulations to? Andrew! He received a $50 gift card.
You can be a winner too! We always welcome submissions. Just point your browser to ncilink.com/potm and fill out the information requested.
Photos fit into one of three categories:
The Good
The Bad
or The WTH (What the Heck)!
We'll need a title for the image as well as a brief description.
We look forward to seeing your submissions and wish you all the best of luck in our next contest.