Another Summit event is in the books, only this one was so very different from all the rest. Because of the COVID-19 Pandemic, Summit could not be held as an in-person event and so, was converted into a live online event in very short order.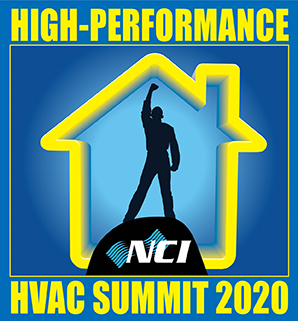 It is safe to say that despite having to do this virtually, Summit 2020 actually attracted more HVAC contractors than any previous Summit and, despite some technical glitches, the interaction between speakers and attendees was superb.
More than 230 HVAC contractors from across the country got together online for the NCI Virtual Summit from October 5-7 to learn how to coach their teams to success.
Breakout Sessions
This year's theme was 'Coach Your Team to High Performance.' From the opening session through every workshop, attendees learned how to coach all their team members.
The breakouts were as follows:
Session 1: Coach Your Entire Team: NCI's David Richardson presented how contractors can coach their teams on what High-Performance contracting is and why the company should be on that path.
He focused on how attendees can use data from performance testing to not only help contractors differentiate by delivering the best possible products and services but also to help employees understand how important that is.
Session 2: Coach Your Managers: Contractor David DeRose of Masterworks Mechanical, Craig, CO presented attendees how, after the team knows the performance mission, to coach other managers on some of the subtle changes necessary to integrate higher performance into the company.
Session 3: Coach Your Technical Team: NCI Instructor Casey Contreras presented the field perspective on integrating performance testing into service and installation technicians' daily work. He shared the importance of how to support the technicians during the transition to High Performance and also coach them on the processes necessary for success.
Performance Town 2020: Hands-on Demonstrations: NCI's Performance Town returned to Summit this year. Three workshops lead by NCI's Rob Falke, Jeff Sturgeon, David Richardson, Casey Contreras, Scott Fielder, and Justin Bright provided contractors with insights on how to conduct testing and calculations in the field.
The Performance Town workshops also detailed how to diagnose issues and offer customers choices on profitable system upgrades.
All attendees to the Virtual Summit workshops received NCI's new detailed procedures and quick reports to use with attendee's management teams coaching.
Session 4: Coach Your Sales Team: The final step is integrating a High-Performance sales approach with your sales team. NCI's David Holt led this session and he discussed how to coach both the inside and outside salespeople on the specifics of adding air upgrades and renovations to their proposals.
This includes the practice of knowing when to price the work themselves and when to bring in higher-level technical expertise.
Click below for the next page