Goodman Accelerated HVAC Success Program
With commercial businesses closing down, Newman decided it was time to explore changing course and focusing Top Tech on the residential side of the industry. Through his involvement with Goodman, he signed up with their Accelerated HVAC Success Program (ncilink.com/ACCSuccess).
Goodman's program is a series of virtual training modules that helps six HVAC contractors to thrive in the new normal created by COVID-19. The contractors shared stories on how their businesses were transformed. Participants could apply the lessons learned to their own heating and air conditioning businesses.
During this training, Newman met David Holt of National Comfort Institute (NCI) and learned about the High-Performance HVAC approach to delivering comfort.
"The Goodman program and David Holt helped me to wrap my mind around the idea that ventilation is the key to properly delivering heating and air conditioning throughout the home. This led me to decide to be more focused on residential HVAC and to stop being a Super Walmart kind of contractor," Newman explains.
After completing the program, Newman joined National Comfort Institute, and he says he immediately began making use of all online training videos.
"We're also doing weekly training with John Puryear. He's helping coach my guys to implement the NCI methodologies as far as airflow and getting the correct data, then knowing what to do with it.
Newman adds that the Goodman and NCI programs have helped to rejuvenate him personally.
"The Goodman program got me fired up again. Through it, I met other contractors with experience in what I was going through who helped me."
High-Performance HVAC and What It Means
Newman says, "As we work with customers in our service area, we often hear them complain about why their system is so noisy, or inefficient, or just not keeping them comfortable. Most contractors can't answer those questions and often chalk it up to bad luck, or they say things like, 'it is what it is.'
"But we go in and measure their system to see what's lacking. We can show customers what we find. And we can fix it. That is what I want us to be known for."
This year Top Tech is still in the middle of its transition from commercial to residential. Kevin Newman admits his residential marketing — both traditional and digital — is not yet fully developed. "But we are getting there," he adds.
"Today, I have a department in my company that specializes in duct renovations and repair. I am hiring technicians who can troubleshoot, get the job done, get it done right the first time. There's a lot of good heating and air conditioning residential techs out there. I have to find them, bring them in, and build my company around their skill sets.
"The good news: our duct renovation department is already having an impact. We can see what air upgrade work is doing to our online presence. We're finally starting to get some traction locally.
"Ultimately, my goal is for Top Tech to be 90-95% residential and 10% commercial. It's nice to have restaurants with preventive maintenance accounts and service agreements. We are not fully high-performance based yet. Part of that is that I haven't implemented it properly. We are working on that."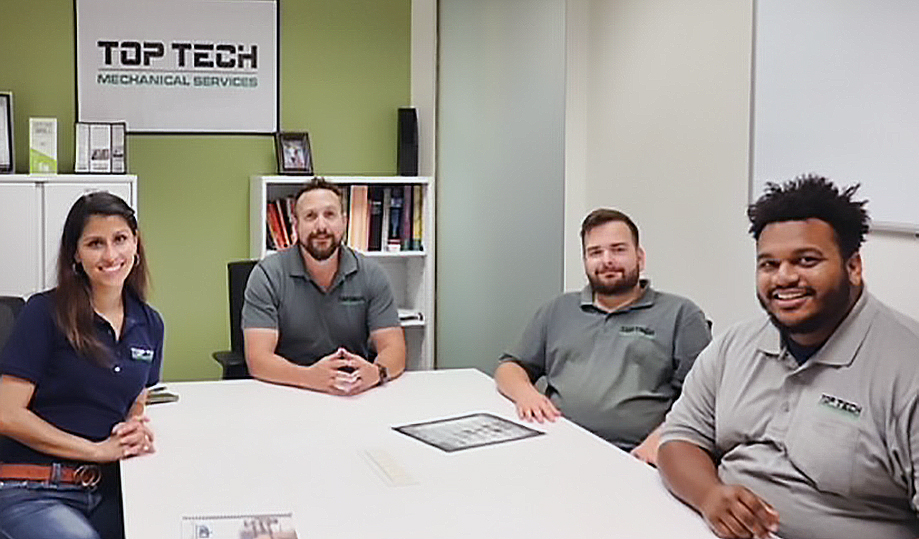 He adds that with COVID seemingly under control, the phones are ringing off the hook, and they have a lot of business. Now it's simply a matter of overcoming time challenges.
"Once we get our performance processes in place, I know it will be highly effective, Newman says,
So far in 2021, he says his team has already beaten three out of the first five months of the best year they ever had! The company employs four people – Kevin himself, his wife, and two technicians.
He says they own three trucks and are actively hiring, hoping to bring the total employee count up to seven in short order.
Final Thoughts
Top Tech Mechanical is a small company with big aspirations. After so many rocky bumps in the road, Kevin Newman says he believes they are finally on the right path, the Performance path. Testing, measuring, and retesting systems is the fulcrum on which he wishes to balance his business. He says it is an approach that helps him achieve his true goal – genuinely taking care of his customers.
He has learned from past experiences and is learning from new ones. Each step he and the Top Tech Team takes them closer to doing what they say they will do, so the customer receives the best service available in his market area.
"To me," he concludes, "we're in business to do the best we can and learn more each day."
It is for these and so many other reasons that the team at High-Performance HVAC Today magazine shines this month's Contractor Spotlight on Top Tech Mechanical of Kennesaw, GA.