California's Ice Bank Subsidies
With California's thirst for energy efficiency, state utilities have significantly subsidized thousands of ice banking projects using incentive programs.
Many of these projects were on new buildings, but most were part of facility retrofits, expansions, and upgrades. Hospitals, universities, and many other sectors rushed to the opportunity of the possible savings and benefits.
Sadly, benefits were not achieved due, in large part, to many factors. One factor is the assumption that ice banks will magically work right once installed. If they don't, the finger-pointing begins. Contractors blame the manufacturer or engineers, so they wipe their hands and rush off to screw up the next job. Sadly, many projects go through the balancing process, and the system still doesn't operate as intended.
A Quick Case Study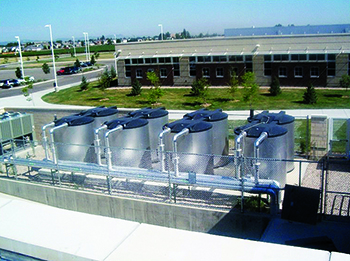 In one such case, I was asked to test two ice banking systems with one of our NCI-trained contractors. The site engineer could not understand why they were having issues operating the plant's systems effectively. In fact, they were going after the manufacturers to solve the problems. Sadly, we could not reproduce any measurement recorded in the certified balancing report.
Why? After our initial pass through, we found the hydronic loop flow rates, controls, and the chiller were not set to design. Many settings remained at factory defaults which confounded the facility team. The installing contractor guaranteed that the balancing was correct and to design.
It took more than three years for the facility to get the attention guaranteed by the agency. Since then, the facility has enjoyed a significant benefit from the ice bank systems. They reduced daylight chiller operations from 31% to less than 5% over the next three-month period.
With the more advanced embedded technologies in these systems and countless configurations, it is imperative to honestly inform yourself about their operations within your contract.
Proper Focus is Essential
When contractors hurriedly completed and submitted projects for incentives, the cost of not correctly doing something greatly dwarfed the cost of doing it right the first time. Often the contractor ends up paying for someone else to fix the project using proper commissioning and balancing. In some cases, they had to replace damaged chillers and storage systems due to incorrect operation.
Under the microscope of energy efficiency, it is more important than ever to focus on these potentially efficient systems properly. If we don't, we tarnish our industry.
---
Jeff Sturgeon is the Southern California Training Center Manager/ Instructor for National Comfort Institute. He has more than 30 years of residential and commercial HVAC and refrigeration field experience. Jeff works with hundreds of contractors and their field personnel to help insure successful implementation of Southern California Edison's Workforce Education & Training programs. He can be reached at ncilink.com/ContactMe.