Why Training is SO Important
Integrity TAB – a non-union company – cannot do what they do without the best training. Heikkila says he wants his team to operate at the highest professional level possible. "I want them to be confident and know what to do."
To accomplish that, he uses a lot of on-the-job (OTJ) training to show technicians precisely what he wants them to do.
In the old days, that meant the techs worked alongside him for three years so they could have all the onsite experience to qualify for and take the National Balancing Council exam.
"This exam is one of the only ones out there that stress the importance of the report. They would know how to put together accurate TAB reports for submission to the customer," he explains.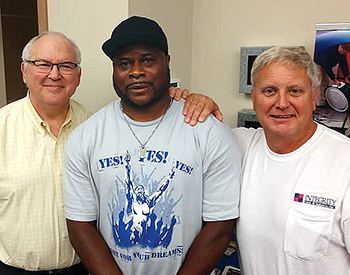 "I know how important it is to stay ahead of the curve and better ourselves to serve our customers better. I want to continue to be recognized as a leader in the TAB industry in Western Michigan."
The Trust Factor
At Integrity TAB, Heikkila says that though they are a small company, they are blessed to have good people. "That is a key factor to the success of any company. I see how hard it is for other contractors to find good people who show up on time each day," he adds.
"But attracting and keeping good people doesn't happen. You have to work hard at that. You must build trust with your team, customers, and community."
He calls that the "Trust Factor." Such internal trust is vital to the operation of the company. For example, Heikkila says once they are trained and certified and prove they know what they are doing, he trusts them to do their jobs.
In the beginning, that trust was given but verified. Today, because of the Integrity TAB team's years on the job, the techs verify the work amongst themselves.
Another example has to do with the daily work schedule.
"I don't stipulate my team's work schedule. They have projects and know the deadlines. For me, this is a trust thing. We have a common goal as a team: to be the best at what we do. So, if half the crew doesn't start until noon because they're always working late, I am fine with that. They run their own work and still get all the work done."
As a team, they talk about projects and decide who will be the leader of each one.
"Then they take it and run with it. I don't have to look over their shoulders," Heikkila says.
This kind of trust, according to Heikkila, is important on many levels. It gives the Integrity team much freedom to be creative and thorough.
"Don't get me wrong," Heikkila says. "I am still the point man and make sure everything is covered. I stay on top of every project and communicate with the team via email because everyone is busy.
Partnering Works
Because they focus on testing, adjusting, and balancing systems, Heikkila says they do some minor duct renovations to bring a system into balance. Typically that can be installing a volume damper if missed by the the sheet metal contractor. When more involved physical work is necessary, Integrity partners with others to get it done.
They partner with a great sheet metal contractor and work with the original mechanicals to get things corrected. He says Integrity TAB also works with some manufacturers, especially Johnson Controls and Trane.
"Both of those companies are outstanding when it comes to building controls, and they have some of the best engineers working for them," he explains. He proudly shares that he cut his teeth in this industry with Johnson Controls back when building controls were pneumatic.
"When designing a pneumatic control system, the engineer must understand every control function, every piece of logic, and how they interact to create different sequences. That forces them to think about a system, its sequencing, and how the overall building works. That is how his team operates today.
He adds that Trane is also a partner and hires Integrity to commission systems on their projects.
Click Below for the Next Page: