Not many HVAC companies can claim they have been in business for 50 years or more. For those who do, it is a time of celebration and an opportunity to use the past to point to the future. It celebrates a company's values, goals, culture, and brand.
The celebrations for Hydes Air Conditioning and Heating of Indio, CA, include successes from their professional high-performance HVAC approach to contracting. The fact is, the company was well on its way in 2018 when this publication recognized them in our May 2018 issue.
Back then, Hydes was an $8 million (gross sales) firm employing 35 people and operating 20 service and installation vehicles. Their focus: residential retrofit and replacement in their market area.
A lot has changed in the following five years, and we thought it would be interesting to revisit this company and learn how they changed.
Time and Changes
Michael Hyde, general manager of the company, says that since 2018, the company has more than doubled in size from a gross sales standpoint.
"We've seen a lot of growth since 2018, and with that, profitability," he says. "Going through the pandemic era had the potential to throw us off track. Instead, it was a surprise and boosted our business once the federal government deemed HVAC essential and people started spending money.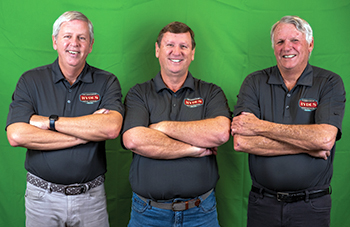 "The difficulty came in the form of supply chain issues, making it hard to get equipment," Hyde adds.
Another significant change since the previous spotlight was the addition of an electrical division. Hyde says that just before launching the new division, he and his family stopped doing appliance repair work, which is how their business started in Orange County, CA.
"Appliance repair has been a large part of our business since our company started, but it was no longer growing. Air conditioning in Palm Desert communities was on fire, and we decided to focus on that."
The electrical division opened a door into the commercial marketplace and eventually became a $1 million business.
While this was happening, another Hydes Air Conditioning business generator went away. Michael Hyde says that the company always made great use of utility rebate programs, and ACCA's QI (Quality Installation) administered through the state of California was one of them.
"The QI program was subsidized to ensure quality installations of HVAC equipment. That aligned nicely with the High-Performance HVAC contracting processes that we learn from National Comfort Institute (NCI) in terms of doing better installs, focusing on airflow, and going beyond equipment swap outs," Hyde says.
Unfortunately, sometime after 2018, the funding for that program ended, eliminating a source for much of Hyde's work.
"To compensate for those lost leads, we sold too many boxes. That led to us going through a period of falling out of the practice of High-Performance HVAC."
Getting Back to Basics
Over the years, despite these setbacks, Hyde says they have managed to grow the company, and today, they field five installation crews and built up their service and maintenance.
Click Below for the Next Page: