"We're a maintenance-driven company because we're in the desert," Hyde continues. "It's hot here longer than in other parts of the country. For example, on October 20th, we're still doing air conditioning. Sure, we are preparing for the change in weather to our heating season, but we're still heavy into air conditioning.
"When we switch to heat, that's the most popular time in the valley. The weather is great. But it's not great for people buying heating and air conditioning. We rely on our maintenance base."
Unlike many HVAC contractors, at Hydes, the entire service staff does maintenance work. He says that is how they are sustained in the off-season. During the off-season, his team looks for opportunities for duct replacements and duct modifications, one of the benefits of testing and measuring airflow.
Over the years, Hyde says they built their maintenance business to over 5,500 agreements.
"Maintenance happens twice a year. So that'll generate 11,000 calls for routine maintenance that I don't have to market for," Hyde says.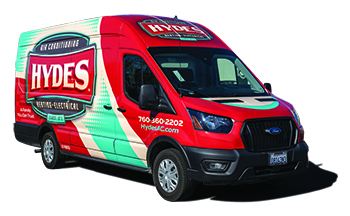 Though he says they don't do much advertising, Hydes stays in touch with their customer base using newsletters, e-mail blasts, etc. This communication is vital to building and managing their maintenance base and, in his words, its stability.
"I don't lay people off. We don't build up in summer and shrink in winter. We'll keep everybody working. When you do that, you can maintain a stable workforce. The result is that we have a lot of long-term employees.
Hydes Air Conditioning Today
Today, the company achieves $16.4 million in gross sales, around the same as last year. Why? Hyde says that the electrical business began moving in a direction that wasn't working because it wasn't who they were.
"Commercial electrical contracting isn't our forte. It has low margins, and we weren't getting paid. So, in 2023, we stepped back from going after those contracts. We're focusing on the residential business, where we do well.
"That means we gave up around $1 million in electrical contract sales and are working now to make that up."
Compared to its size in 2018, Hydes today has 50 employees, including five two-person installation crews, an installation manager who can jump in on projects when necessary, and 15 service and maintenance technicians. The company also still has six electrical service technicians.
Developing the Next Generation
Though Michael Hyde says he is not quite ready for retirement, he recognizes the need to "bring up" people from within the business and find young people to come into the business.
He says, "I'm used to being very hands-on and still am. My brothers and I are selling and designing projects, but there's more office work and meetings as we grow. That takes time. We need more help and have begun developing middle managers from within. We are also hiring new people.
"We've had great success bringing in new people at ground level and building them up. For example, when we bring in a new technician, we put them through a lot of training, including NCI classes.
"When they're ready, we send them to get NATE certified. We're heavy believers in NATE. Our service guys must be NATE certified. So, if a maintenance tech wants to advance, NATE certification is a goal.
"In the process, I've made an interesting discovery. Some of my best new hires are younger people. I often hear millennials, Gen Z'ers, and so on have bad work ethics. We find the exact opposite."
Click Below for the Next Page: