In the modern world, they say that your success is often dependent on the breadth and girth of your network. The 'They' in this scenario are those successful business and marketing gurus who write books, put on seminars, and coach individuals to help them grow their careers successfully.
And they aren't wrong. Think about it: your network of friends, family, customers, peers, team members, professional advisors, and vendors ' everyone with whom you encounter in your daily and business life ' have a huge impact on your ability to succeed.
Investing your time and effort to build and maintain a network of genuine personal and professional relationships creates an important asset that will support a higher level of success.
Networking is nothing more than building relationships. It is about connecting with people, listening to what they have to say, responding to it, and learning from it.
Learning from Your Peers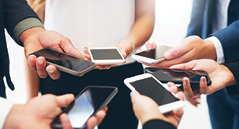 One of the key places where networking occurs is during gatherings ' meetings, tradeshows, training sessions, and so on. Learning from your peers occurs naturally during such events.
For example, you might meet someone struggling with the same issue that is slowing down your forward momentum. By mentioning your challenge, you might find that missing idea, something that had not occurred to you.
You might talk to someone who has been where you are, who can give you the tip you need to get your business back on track. On the other hand, you could share just the right magic insight to straighten out someone else's business hurdle.
Mike Greany of All Pro Plumbing, Heating, Air and Electrical of Ontario, CA says that he confers with peers on an ongoing basis. 'I network regularly,' he says. 'We talk about a lot of things: business practices, hiring and firing, goal setting, tracking, and more. The biggest benefit I get is accountability. It forces me to be accountable to those peers for my own goals.'
That last part is worth repeating. Networking holds Greany accountable for his own goals!! It is like having a personal board of directors you can turn to for problem-solving, idea swapping, brainstorming, and imagining. In that environment, you want to do the right thing so your 'board' can see you grow. You become motivated and inspired by like-minded individuals.
Peers can also help each other reach out beyond their circles of support to broader exposure and brand identity building. For contractors like Greany, that has led to contacts and true relationships with other contractors across the country.
He says he looks for opportunities to talk with this group ' one-on-one, when attending industry events, and through programs like Trailblazer Coaching Live online forum hosted by National Comfort Institute.
'Live conferences and meetings are the most important part of my network. I find it a must to meet people face-to-face. It makes it more of a personal connection making it easier to work together,' he adds.
Vic Updike of Masterworks Mechanical in Craig, CO agrees. 'I network with other HVAC contractors I meet at the National Comfort Institute Summit. We talk about everything from how to implement CO testing in our businesses to what kind of software to consider for doing commercial project bidding and more.'
Click below for next page: