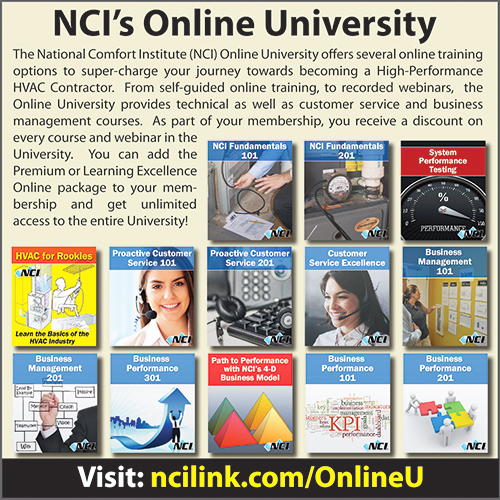 ---
Did You Miss Summit 2020? No Problem!
National Comfort Institute's 2020 Summit is in the books, but that doesn't mean members who couldn't attend have to miss out on all the great content presented there.
The COVID-19 pandemic forced almost all live meeting events to go virtual and Summit is no different. But that created an opportunity to record and capture much of the proceedings, breakout sessions, and workshops.
For the very first time, we are pleased to announce that members can access the recorded Summit for 90 days for the low price of $95.
To learn more about the Summit and register today to access session recordings, downloads, our virtual tradeshow, and more click on GoToSummit.com.
---
The November 2020 PowerPack is Here!
This month we once again provide you with some additional content to help you with conducting and marketing your performance testing capabilities.

These tools include access to some of NCI's recorded webinars and downloads. Be sure to share them with your team during the month of November.
Please Note: Some of the tools included in the PowerPack each month may not be normally accessible with your membership subscription package. However, you will be able to access these tools through this PowerPack portal during the current month.
So without further ado, here is what the November 2020 PowerPack includes:
Performance Tune-Ups That Really Perform

(Recorded Webinar)

Two Minute Duct Performance Test

(Download)

Not Warm Enough Postcard

(Download)
How Do I Choose the Right

Contractor? Brochure

(Download)

Downloading the AirMaxx? App

(Download).
Go to ncilink.com/PwrPak to access it today. If you have any questions, or if you are unable to access any of the tools in this program, please contact us at 800-633-7058.
We think you'll find these tools and training materials very helpful as you continue to grow your High-Performance HVAC business.