NCI Announces A New Class
Did you know that National Comfort Institute (NCI) has a new training course that will help HVAC contractors learn how to accurately complete four stages of system design? Well they do.
After all, a High-Performance HVAC system starts with the right design.
High-Performance HVAC Design and Redesign focuses on NCI principles as well as ACCA (Air Conditioning Contractors of America) Manuals J, S, D, and T using the Elite RHVAC software package.
This is a three-day course that has seven 50-minute learning modules. It is taught with a live instructor, uses interactive discussion, and many visuals to help attendees with both written and hands-on exercises.
Though not a certification-based class, contractors and technicians who complete this training will be able to use computer-based software to design properly-sized HVAC systems that conform to NCI performance-based principles to ensure an optimized system.
This is a stand-alone course that requires basic computer literacy. The course is designed for HVAC contractors, company leaders, technicians, installers, salespeople, and more.
The course was first taught earlier this month in Austin, TX by Paul Wieboldt of Tradewinds Appropriate Technologies, LLC. The next class is scheduled for April 25-27 at RE Michel Co. in Baltimore, MD.
Check out future training in 2023 by clicking here.
Questions? Be sure to call NCI's customer help line at 800-633-7058.
---
Did You Know … ?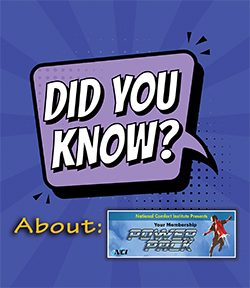 Members of National Comfort Institute (NCI) enjoy many benefits. One of them is a monthly download/access feature known as the PowerPack.
Each month's PowerPack is designed to help members explore different tools they can use in their High-Performance contracting businesses.
These tools consist of step-by-step instructions for using various test instruments. Plus there are articles on everything from how to implement performance into a company, to the best ways for selling air upgrades, and more.
The PowerPack also provides access to a variety of NCI online-based training modules, and so much more.
None of these tools are available to non-members.
If you haven't taken advantage of your PowerPack tool benefits, don't wait. Go to ncilink.com/PwrPak.
If you aren't a member but are interested in learning more, visit ncilink.com/NCIMembership or call 800-633-7058.
---
Do You Know About AirMaxx™ and AirMaxx Lite™?
In this digital age, having software to help with calculating equipment-delivered airflow and understanding its overall performance is more important than ever. National Comfort Institute members have some amazing advantages if they use the organizations ComfortMaxx family of software for these purposes.
AirMaxx™ is a mobile app that is included for all NCI members or ComfortMaxx™ subscribers. With it, you can calculate the following:
Total External static pressure
Supply Duct static pressure
Return Duct static pressure.
AirMaxx also easily communicates equipment performance in delivering airflow relative to what it is designed to deliver. It can identify which components are causing stress to that airflow delivery.
The cool thing about AirMaxx is that once its downloaded to a mobile device, it does not require a WiFi connection!
AirMaxx Lite™ is a free-version of AirMaxx that is open to the public. It doesn't do everything that the full version does, but is good enough to help your field team calculate TESP and communicate HVAC equipment delivery performance relative to its rated static pressure.
Both of these apps are Android and iOS friendly. ComfortMaxx is cloud-based software that requires NCI membership and a subscription.
Learn more by calling the NCI Customer Care line at 800-633-7058.