Since this month's issue is dedicated to workplace safety, it's important to recognize that the workplace for service technicians and installers is in the homes and buildings where they perform their work each day.
Besides all of the needed safety precautions, tools, and training to safeguard them from things like falls, electrocution, exposure to toxic chemicals, and so on, we also need to protect employees – and customers – from Carbon Monoxide (CO), also known as the silent killer.
We must be wary of not just lethal levels, but also that CO can cause immediate illness or worse. Low levels of CO are even more insidious as we usually don't experience immediate symptoms. Instead, we're negatively impacted by long-term exposure.
Think about this: your field people are in dozens, maybe hundreds of different homes and commercial buildings every month. If they don't know whether they are being exposed to CO, they can be unwittingly poisoned a little bit every day.
When it comes to customers, unless their indoor environments are continuously monitored for CO, they really have no idea if they are being poisoned – often until it's too late to reverse the effects of this long-term exposure.
Solving the CO Safety Issue
Because of this, 17 years ago NCI designed a low-level CO monitor that can be used as a personal safety device for your field techs and can be installed in your customers' homes and buildings. An estimated 100,000 NSI 3000 CO monitors have been installed since 2004. And every one of those monitors was sold by qualified contractors with NCI-Certified technicians on staff.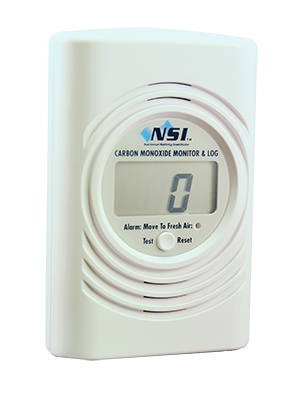 Since day one we only sell these monitors through trained and certified contractors. Why has this been so important to us for nearly two decades? Because we want to make sure that if an NSI low-level CO monitor alarms, the homeowner or building occupant can call a qualified individual to diagnose the root cause.
Unfortunately, most first responders who are called when an alarm goes off are not trained to deal with low-level CO situations. Even fewer have any clue how to diagnose root causes. In fact, many just dismiss these calls as caused by defective detectors.
After many years of faithful service, we have finally retired the NSI 3000. Unfortunately, like all electronics, many of its components have become obsolete and impossible to source.
Evolutionary Changes
Now here's the good news: After several painstaking years of R&D, including new hardware and software design, we are excited to introduce the brand new NSI 6000. This new compact monitor has all of the same features and benefits as the 3000 plus many new innovations.
For example, the new monitor ensures accurate readings through its entire lifespan, which is estimated to be eight to 10 years. We decided to keep the same exact sensor used in the proven NSI 3000, many of which are still going after more than a decade!
The NSI 6000 also features Bluetooth communications with a consumer app to sync the monitor with smartphones. Plus, there is a "Pro" App your techs use to activate the monitors you sell so you can access key history data through a cloud portal.
While these features alone add a new level of value for your customers, there's no additional cost for the apps or 24/7 cloud service.
To learn more about the NSI 6000 go to nationalsafetyinstruments.com.
If you're a contractor interested in selling these low-level monitors, go to NCILink.com/NSI6000.
Whatever device you choose, make sure you are helping to keep your employees and customers safe from carbon monoxide.