I like to think about it this way: Manufacturers are marketing companies that promote products and equipment. Contractors should be marketing companies that promote systems and services. At Jerry Kelly, we private-label our equipment. We sell the Emerald Heating and Air Conditioning brand equipment. We promote our unique abilities to resolve customer comfort issues. We back up everything we do. And all of that is part of our brand identity.
Managing the Brand
Managing your brand is a three-step process. First, you must define what your brand is. Start with your brand statement. How do you want your team to look or not? Either way, you are defining the brand. Then you have to implement it, roll it out. Teach everyone inside the company what you want and how you want it done. And finally, you have to hold people accountable to it.
Accountability is important. If you don't hold your team accountable to the brand, then your brand will not be what you envision. We sometimes do field checks where salespeople, when not busy, drop in on our techs to check and see if they are following our branding standards. And they might even generate a lead while there. They look at how the techs look, whether they are wearing shoe coverings, or if they are using our procedures for installing or servicing the systems. This approach works well for us.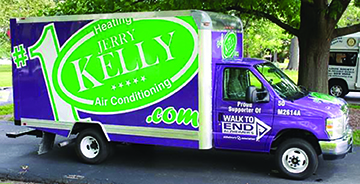 No One is Perfect
Are we perfect? Not by any means. But we work towards continuous improvement. When things get off track, we hold the team accountable and help them get back on track.
The obvious, but very important method for managing the brand is to find out from customers what they think. We use brief surveys called Net Promoter? Scores (ncilink.com/NPS) as well as reputation management through the Internet. Net Promoter Score (NPS?) is one of the most common customer experience metrics used by companies around the world. We ask customers what we did right, where we can improve, and we ask if they would recommend us.
We also use Google Reviews (ncilink.com/GoogleRev). We actively ask for reviews and we manage those, making sure to answer problems right away.
This can be a little tricky. You have to keep in mind that if you are responding to a review, you are writing to the entire audience, not just the person.
You want that response to be as even-toned and fair-sounding as possible. Take responsibility for all blame. DO NOT point the finger at the customer ever. Do everything you can to make sure the customer feels like they were treated fairly.
Everyone who reads an answer written like that will think you are a fair company that stands behind their work. That is gold when it comes to building a top-of-mind reputation.
Click below for the next page;