Five More Steps To Becoming A Performance-Based Contractor
In this fourth part of our ongoing series, we will explore the last five of 10 distinct steps that will help you on your path to embracing High-Performance HVAC ' should you choose to accept this mission.
It's important to understand that anyone can become Performance-Based ' it's not an exclusive club designed to keep people out. As the saying goes, the 'rising tide raises all ships.' The more contractors doing this, the better it is for everyone ' especially your customers!
Let's take a closer look at each of these steps on the road to High-Performance:
Step 6 ?

Have Someone Watch Your Back

There's nothing scarier than learning something new and unfamiliar and having no one to fall back on when you hit a snag or something you don't understand. It's like a 'ight instructor putting you in the pilot's seat right after your 'rst lesson, then wishing you good luck as he walks away from the plane.

There's bound to be something you'll forget, or something you'll run into for the very 'rst time, when you begin testing system performance.

You
will make some mistakes, that's just part of 'HVAC Performance Puberty.' But nobody likes to crash and burn. This reality hit us many years ago. We noticed some contractors were able to 'y solo right from the start, while many others struggled for years to make system diagnostics work in their companies. We realized someone had to support them when they hit bumps in the road.
Today you don't have to go it alone. There is now a comprehensive support structure designed speci'cally for Performance-Based Contractors. In 2002 National Comfort Institute (NCI) founded its membership group specifically for this purpose.
If you're serious about becoming Performance-Based, NCI membership can reduce a huge part of the learning curve for you. In addition to unlimited technical support, you'll have access to thousands of pages of technical materials, marketing pieces and ideas, sales materials, internal training lessons, hundreds of articles and tips, a growing knowledge base of frequently asked questions, member forums where you can seek advice from hundreds of other members, and much more.
NCI membership can help take the fear and the sting out of going it alone. While there are some great business coaches out there to help with some of the management aspects of the culture change High-Performance Contracting demands, there is no other place, to my knowledge, that approaches the specialized support you get from NCI.
Learn about all NCI member benefits and programs by going to: www.ncimembership.com.
Step 7 ?

Baby Steps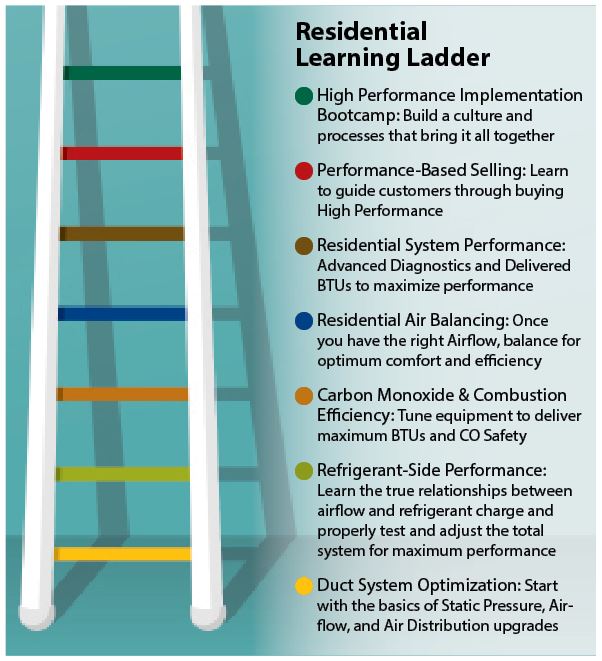 NCI has put together a learning ladder designed to help residential contractors and their employees with a step-by-step approach to their ongoing education. We also have a very similar commercial contractor learning ladder which we will share in a future article. Each of the educational steps of the ladder are shown above.
While you can take some of the steps out of order, it's best to start with the first step and work your way up. The learning ladder applies to virtually anyone in your company who is involved in field work, including service technicians, installers, and sales people. It also applies to your management team. The people at the top need to know exactly what your frontline people are learning and implementing. In addition to the training described in these steps, there is plenty of online training your team can access to get everyone on the same page — including operations, customer service, dispatch, etc.
Many of the articles in this series refer to speci'c processes, charts, procedures, products, and services provided exclusively through NCI. Whenever possible, I will mention other sources, but because so many of the processes and approaches were created by NCI, it's often impossible to offer alternate resources. I hope this doesn't deter you from following the advice in this series. These articles are based on decades of experience, research, testing, and development from which you'll bene't — regardless of where you get your education and training.
Step 8 ?

Get Everyone on Board

The next step is to get your employees on board. It starts with getting them trained and certi'ed in the disciplines described above. If you have 10 employees or more, it might make sense to bring the training onsite with private classes for your company. An additional bene't of onsite training is that your techs can spend more time in the 'eld with the instructor, both before and after the classroom training.

If you have fewer than 10 employees, it might make sense to travel to a regularly scheduled class, or maybe get together with another company to share onsite training. If you don't have a lot of field personnel, you may need to send them to training a few at a time, so as not to disrupt your business. Once your people see you are serious about the change and begin to understand how different Performance-Based Contracting (PBC) is, you'll 'nd your company evolving into something very different.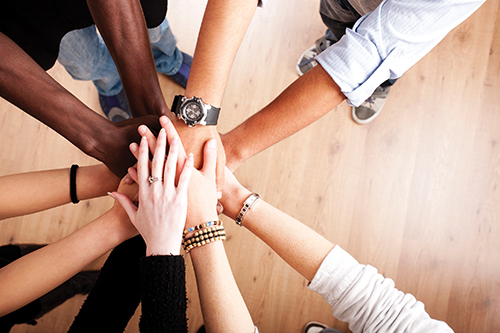 An important part of getting everyone in your company on board is to share your vision of how High Performance will impact them in a positive way. Be sure to include your game plan. There's no need to make a huge fanfare about it. A quiet thought-out meeting with the entire team will do far better than a big, flashy rollout. It's best to under-promise and over-perform when it comes to a culture change.
Taking baby steps is always best. Share where you want to go and each of the steps you plan to take to get there.
Everyone will want to know how it will affect them, whether they tell you or not. Fear is usually one of the first reactions to change. Spend time with each person on your team, answering any questions they may have, especially about how their job will be affected. Will it be more work? Do they have an opportunity to advance themselves, to improve their careers, their financial situations? How far out of their comfort zone and expertise will they need to go? These are just a few of the questions you can expect. Try to address their questions proactively, even before they ask.
Step 9 ?

Update Your Internal Systems and Rethink Your Personnel Needs

Once you begin implementing High Performance at all levels of your company, re-evaluate some of your systems to make sure they can work with the new approach. You may need to modify your service procedures, forms, invoices, and service agreements to re'ect the changes and capture important new information about customers' systems. As you roll things out, you may want to make some changes in your hiring practices, installation methods, compensation methods, and other key cultural elements of your business.

As you begin to grow the system renovation side of your Performance-Based company, you'll soon identify the need for specialists within your organization in two areas: Air Diagnostic and Balancing Specialists, and Duct Renovation Specialists. You'll quickly notice with these positions that your materials-to-labor ratio is signi'cantly different than it is on equipment replacement and demand service.

Simply put, renovation work and Air Upgrades usually involve a higher ratio of direct labor to materials than when installing new equipment. This is one reason you need a more aggressive labor factor. You should price this labor higher to achieve higher contribution pro't, making up for the fact that you're not reselling a high-ticket item.

Of course, if you are replacing equipment, which will happen often, price the different types of work separately and then combine them in your proposal. The result will be a higher gross margin on the overall job. An important factor is to make sure you're pricing your renovation work based on what it's worth and your investment in the tools and education, not just a marked-up labor rate. More on this in future articles in this series.
One important factor to consider is when you hire and train duct renovation specialists, you don't need to necessarily pull from the existing skilled labor pool of service technicians and installers. After all, these specialists won't be dealing with refrigerants, equipment diagnostics and repair, electrical, or controls. With the proper training, an individual with good mechanical aptitude and great people skills can be trained to measure system performance, perform a 'nal test and balance and/or do duct renovations and repairs.
The beauty of this approach is it allows you to pull from a much larger pool in this tough labor market. Since these roles require fewer skills, and less formal education, your hourly labor costs can be signi'cantly lower.
Step 10 ?

Just Do It!

There is much truth and wisdom to this catchy marketing slogan from a well-known athletic shoe manufacturer.

Procrastination is the number one barrier to any major change. It's the number one reason contractors who consider becoming Performance-Based never quite get things off the ground. 'We're too busy right now, but when we get around to it, we'll get started.' Or, 'Just as soon as I 'x ______ (fill in the blank), I'm going to get going on this.'

These procrastination statements are just a few of dozens we've heard in putting off getting started. Many contractors who put it off year after year with these very excuses later told us they could kick themselves for losing two, three, or more years they'll never get back.
So, for all those folks who said they would start just as soon as they got 'around to it,' Figure 1 is my gift to you: your very own Round 'To It.'
A journey of a thousand miles begins with the very 'rst step. If you want to reap the bene'ts of High-Performance Contracting, you must take that 'rst step, no matter how big or small.
The good news is it's much easier and less scary than it was 've or 10 years ago. Many pioneers have walked these steps before you, scraping their knees and pulling arrows out of their backs along the way.
While it's no longer the Wild West, the path to performance is still somewhat of a gravel road. By getting on that path today, you'll be many miles ahead of those who will be driving down its four-lane highway in the years ahead.
In future articles in this series we will break down many of the 10 Steps to High-Performance Contracting in much more detail. In the meantime, start digging deeper. If you've been holding back exploring this approach to your business, spend some time to learn more.
This magazine has numerous articles on the topic. Take some time to go through past issues. Also, NCI's website is jam-packed with information ' available to you at no cost, to get you started on your path to High Performance.