'The biggest thing I've learned from NCI is that proper airflow is everything. The balancing hood doesn't lie. Plus, we use NCI's static pressure kits and have one on each of our trucks. Our tech team just loves it. They send me pictures when the systems they install hit the static pressure marks. It's almost competitive as to who will get closest to .5-in.'
He points out that traditionally designers ran square duct on return systems. They would then cut in a takeoff and drop the return out of it.
'I wanted to try something different to increase airflow. So, I had one of my best lead installers nest two 90? (inside/outside radiuses) returns on the top. Then instead of just running ductwork, I had this installer treat it like a supply and then drop down to a nice long 90′ radius into the furnace. By doing that, static pressure dropped significantly.'
He adds, 'This virtually eliminated air turbulence inside the duct and helped it flow smoothly into the furnace. If you gently guide which way air must travel, static pressures drop. When air must fight other airstreams to get down the trunk, static rises and you will have problems.'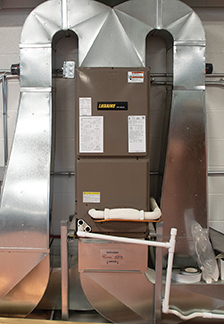 Other Tools of the Trade
Furthermore, Gino says they've become masters at finding and sealing duct leaks. He says 15 years ago, you were considered a hack if you covered your joints.
Gino invested in and uses an Aeroseal system (ncilink.com/aeroseal) when they need to seal leaks.
Another tool that is becoming more useful to Viccarone Heating is NCI's ComfortMaxx™ cloud-based software (ncilink.com/CMaxx). Right now it is mostly used by the service division.
'Several years ago, we attended a ComfortMaxx class and the techs were really gung-ho on it. They continue to move further in that direction,' he says.
'I want to start using it on the new construction side so we can show customers how we can guarantee their comfort without overwhelming them with tech speak. The problem is it slows our crews down. I'm not going to have my guys do something if they aren't going to do it right. So, I have to figure it out.'
Moving Forward
The new construction business was very good and profitable for Viccarone Heating, but as Gino says, it is a tough business.
'It is hard to maintain the level of professionalism and quality if you can't find the right people to help you,' he explains.
Within the last few years, Gino was seriously thinking about retirement and selling the business. But then his son, Jacob, joined the company, and everything changed.
'Jacob came in with fire in his belly. He wanted to learn everything and do anything. I put him in charge of our sheet metal shop. He brought in several new guys and between them all, they put the 'Q' back in quality,' he explains. 'There was no job too big, or turnaround too fast for them. They never complained. They constantly want more work.
'This changed everything. This is why we can make custom inside/outside radius fittings and get them onto the job so fast. My son and the fabrication team are the right people at the right time and without them, we wouldn't be achieving the levels of quality and growth we enjoy today.'
Click below for next page: