Some distributors call it dealer development, others simply refer to it as a commitment to help train their customers' employees. Whatever the term they use, distributors who provide high quality education on a regular basis are true partners that can help you grow your contracting business.
Is your wholesaler known for providing more than the occasional product demo "training" accompanied by a slice of pizza? Do they have good technical support within their organization?
Are they dedicated to bringing you cutting edge HVAC training, both in terms of technical knowledge and skills and classes to help you grow your business and become more profitable? If the answers are yes, they are a great training partner.
The Right Distributor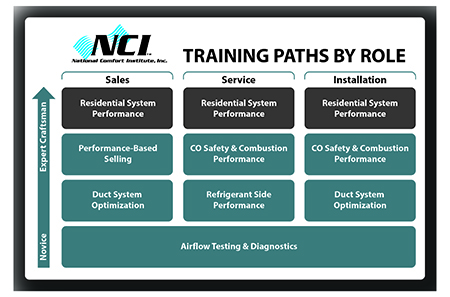 A distributor partner who is truly committed to helping their customers grow will have a well-equipped training facility. This includes a dedicated room that can fit at least 20-25 students, along with a good selection of both gas and electric live-fire equipment. They should also have at least one accessible working air distribution system.
Of course, a great training facility is only as good as the education that takes place in it. Your distributor should offer ongoing classes for owners, managers, customer service reps, and field personnel. This can include training in business management, operations, sales, customer service, and technical skills focused on improving best installation practices, service, and maintenance. Certification training and testing are an important part of a good program.
From a High-Performance perspective, NCI recommends training that begins with system diagnostic basics and moves up through each of the steps involved in delivering high-performance HVAC systems. These classes should be offered on a quarterly rotation so you don't have to tie up every installer or service tech at the same time.
A Winning Combination
Your distributor needs contractors like you to help grow their business. If they don't already provide the level of training described in this article, don't be shy about asking for it.
Solid, consistent training is a win-win-win for you, your customers, and your distributor.
Customers will get better installations and service. As a result, you can profitably grow your company, and in turn become
a bigger and more valuable customer for your distributor.