High Velocity, NOT!
— Tom Spall, T E Spall @ Son, Inc., Carbondale, PA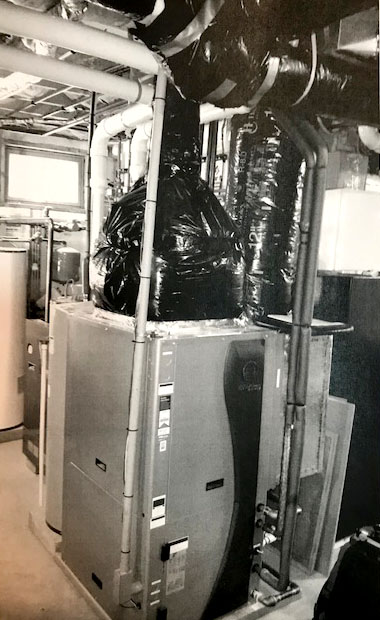 This is a Geothermal unit rated at .75" TESP and 1350 CFM. It was installed to
replace a high-velocity system, and connected to the 7" round supply duct, and
a 15" round return. Oops!

Tom is the November winner of our Photo-of-the-Month contest, as voted on by the subscribers to HVAC Today magazine and visitors to HVACToday.
He won a $50 gift card, you can too – submissions are always welcome.
You  Can Win Too!
We are always looking for submissions. If you would like to submit a photo for consideration in our Photo of the Month contest, it's easy to do.
Just click here and fill out the information as requested. That's it!
Photos can fit into one of three categories:
The Good
The Bad
or The WTH (What the Heck)!
We'll need a title for the image as well as a brief description.
We look forward to seeing your submissions and wish you all the best of luck in our next contest.