NCI Preparing for Summit 2023
NCI's High-Performance HVAC Summit Week happens April 16-20, 2023, in Branson, MO. The event will take place at the Chateau on the Lake Resort and Spa, just minutes from downtown Branson on the shores of beautiful Table Rock Lake.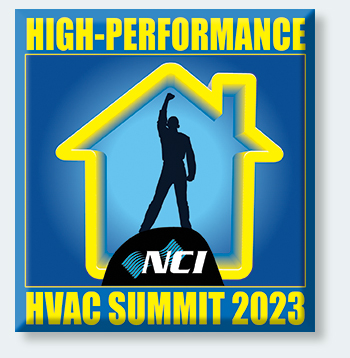 The 2023 theme, "Service: High-Performance Starts Here," focuses on building the foundation of a High-Performance HVAC business through your service department. The general conference and breakout sessions will drill down into the exact steps for building a solid maintenance agreement program.
In addition, sessions address taking the path to generating profitable leads from your service and maintenance visits through testing and diagnostics, then handing them off to ensure high closing rates and happy customers.
Session titles include:
Testing and Diagnostics to Generate Leads for Replacements and Upgrades
Keep Customers Safe and Generate Leads with CO Safety and Combustion Testing
Service Lead Hand-off to Sales and Follow-through
Setting Up A High-Performance Maintenance Agreement Program
High-Performance Hands-on Diagnostics in Performance Town 2023.
In addition, NCI will feature special General Sessions on this topic, as well as partner breakouts, our first-ever Measurement Technology Pavilion featuring our test instrument and software partners, and so much more!
Registration and hotel reservations will be open soon, so mark your calendar for Summit Week 2023 – April 17-20. We can't wait to see you there!
---
New Static Pressure Testing Package
National Comfort Institute (NCI) announces a new member Tech Tip download called, "Start Here on Your Path to High Performance." This six-page package will help demonstrate how to perform total external static pressure testing as well as how to select the right equipment. The PDF includes links to articles to help you implement testing into your business.
Links will point you to a video, "Total Static Pressure: A Step-by-Step Guide," presented by NCI's David Richardson. In this video, David explains total external static pressure, where to take measurements, and what instruments to use.
Another link will take you to the NCI Store, where you'll find static pressure test port installation kits necessary to take correct tests and recommended manometers (digital and analog).
Other links will take you to articles that provide more detailed information on static pressure measurements, diagnostics, and how to avoid four basic static pressure mistakes.
And last, but not least, the PDF contains detailed illustrations showing where to install test ports on several different gas-fired furnace equipment types and configurations.
For a limited time, register at ncilink.com/SPTest to download this PDF.
---
New High-Performance Talk Forum
Great News! NCI recently launched its new High-Performance Talk Forum. It is the only forum dedicated specifically to those on the path to the High-Performance HVAC contracting method. Here contractors can talk to their peers about everything from specific testing issues to tips on how to implement some aspects of the performance approach into their businesses.
Right now, High-Performance Talk is divided into four key areas:
Welcome
Airhead Avenue
CO and Combustion Court
NCI Member-Only Forum.
Each area can contain an unlimited number of pertinent topics and discussions started by you, and you can follow (or subscribe) to any topics you want.
Though this forum is moderated and there are a few rules – it is a user-driven platform and will be as useful and "happening" as you make it.
So why not give it a try? You can visit highperformancetalk.com and check it out. If you'd like to post on the site, you will have to register. That is easy enough to do. Just click here and fill out this basic form.
Registration is free, so it should be simple to sign up today. We look forward to seeing you online at HighPerformanceTalk.com today.