Every business leader and their team constantly face putting out fires every day. No matter how organized or prepared we are, adversity will always pop up. Certainly, having systems and processes in place help your people navigate the many unknowns of your business.
The true test however, is when something out of left field blindsides you and your team.
If you read "One More Thing" last month, you'll know that NCI recently moved its headquarters from Northeast Ohio to Morristown, Tennessee. During this process we've had several blindsiding experiences that tested both me personally and our team.
Disaster #1
Besides the usual challenges associated with moving both my home and NCI headquarters to Tennessee, my first blindsiding challenge was caused by the upstairs HVAC system of my new home.
We were in the middle of moving and it got pretty hot here in late June. I decided it was time to turn on the upstairs unit (which is located in the attic above the first floor) to help cool things down. I left the unit running and headed back to Ohio to load up for the final move.
When my wife and I drove back, we were welcomed home to a soaked master bathroom and closet ceiling (which eventually caved in). Talk about adversity.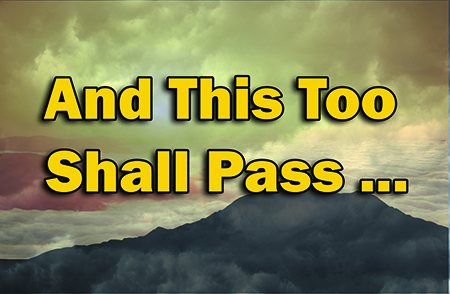 Apparently, the previous homeowner had someone "work" on the condensate drainage system. They left a dead condensate pump disconnected, and low and behold no one ever installed a shutoff sensor in the drain pan — nor did the pan have a secondary drain on it. Long story short, both rooms need to be completely gutted and renovated, and are unusable.
We are currently living in a secondary bedroom and using another bedroom as our "closet." We won't be able to use the master suite for months.
In addition, we can't turn on the upstairs air conditioning until it is replaced as it turns out the paper-thin drain pan leaks like a sieve, so the system needs to be repaired or more likely, replaced.
In the meantime, the entire upstairs has also been unlivable with the soaring August temperatures. Needless to say, things got pretty stressful, pretty quick. The key was staying calm and remembering that "this too shall pass."
Disaster #2
At the same time, we were moving the entire contents of NCI's headquarters and training center buildings to Tennessee. Things seemed to be going along pretty well. We set up our new video studio for our first online class in mid-August — live from Tennessee! David Richardson was coming in to teach our online recertification class with more than 50 students. All was good.
Then adversity and disaster hit again! The morning of the online training we entered our new building to the sound of what I can only describe as a waterfall.
In a panic we headed downstairs to the training center only to step into three inches of water! The entire 5,000 sq. ft. floor was flooded! The main water line had broken directly over our main classroom and was shooting out water at 100 lbs of pressure over the drop ceiling which had mostly collapsed from the weight.
We eventually got the water shut off and began to assess the extensive damage to our training room, hands-on lab, and video studio.
Once we got over the initial shock, we realized our online class was to start in a little over an hour. What happened next is where the team really shined.
Click Below for the Next page