Summit 2019: Save the Date!
The High-Performance HVAC Summit 2019 is coming. We are returning to Orlando Florida the week of April 15 – 18, 2019 and it promises to be one of the best Summits yet. More information will be available shortly. So, mark your calendars today and get ready to rock down the Path to Performance.
We look forward to seeing all of you in Orlando in April.
.
NCI Members: Are You Using ComfortMaxx™?
One very important feature of your NCI membership is having FREE access to the ComfortMaxx™ testing software series. All members have access to ComfortMaxx Air? — an easy-to-use cloud-based testing tool that allows you to record and calculate System Airflow information based on static pressure measurements.
All you do is collect four system pressures at the indicated locations. Lookup airflow on the appropriate fan chart for the equipment brand ' or use our generic chart. Then produce detailed PDF reports for yourself and for the customer. They can help you generate more leads, add credibility to your testing, provide baseline data for when you test-out, and truly differentiate you from competitors.
In addition, ComfortMaxx Air now has a new feature called 'Lightening Mode' which allows your techs to perform testing much faster.
If you are a Learning Excellence Member, you get ComfortMaxx Pulse?, which includes everything in Air but enables you to take the pulse of your customers' systems by adding temperature and delivered BTU measurements.
It's designed to get a quick 15 to 20-minute initial diagnostic on a system's performance. Its focus is to create lead generation through service, or a quick test during a sales call.
If you are interested in having the ultimate in total HVAC System Performance testing software, the ComfortMaxx Verify? is for you. Verify enables you to conduct full system performance testing before and after completing HVAC System renovation work and balancing the system. This inc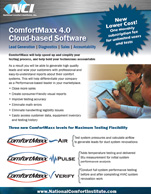 ludes full room-by-room airflow and performance testing.
Using Verify, you can provide your customer with a side-by-side comparison report showing that you delivered what you promised.
As owners and leaders, it's up to you to implement ComfortMaxx. If you need help, contact customer care at 800-633-7058. They can help you get signed up, set up, and started so you can take advantage of this amazing benefit.
For more information you can also download a PDF datasheet on ComfortMaxx' from http://ncilink.com/CMLit.
.
Did You Know …
The fact is most members of organizations don't know all the benefits their membership brings. Do you know what your NCI membership provides for you?
The answer: plenty. Here is a quick rundown of what your $100/month membership fee provides for you:
Live Support, Lead Generation, and Software. This includes unlimited toll-free phone support, access to the High PerformanceTalk Discussion Forum, a Premium Listing in NCI's web-based Find-a-Certified-Professional Lead Generator, and ComfortMaxx Air' software.
Downloadable Tools and Knowledge Libraries. This includes an extensive Download Library, i-NCI Mobile-Friendly Tools and Applications, an exclusive Member Newsletter, the largest library of Performance-Based Contracting articles, as well as a subscription to this magazine.
Discounts and Rebates. Members receive Live and Online Training Discounts, access to the Member Rewards Training Incentive Partners Program (TIPP), NCI Training Bucks Program, and NCI Online Store discounts.
And there is so much more, including discounts to the NCI High-Performance HVAC Summit annual meeting. Plus you can add options that even further enhance the benefits of your membership.
Do you want to really take advantage of these benefits? Then go to ncilink.com/ExploreNCIMembership for more information. Or call 1-800-633-7058 today.
[/blank]