Your September PowerPack is Ready!!!
NCI membership is designed to offer an experience you just can't find anywhere else. There are too many benefits to elaborate here, which is why NCI recently introduced the monthly PowerPack. This was created to help you become more familiar with all that NCI membership has to offer.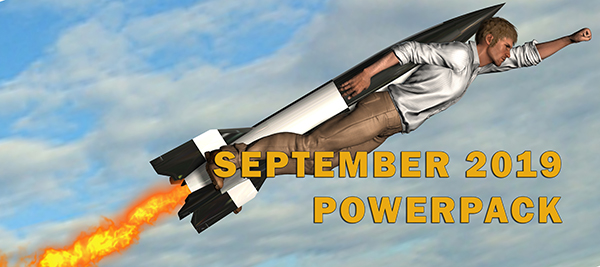 Each month's PowerPack is designed to help you explore different tools you can use in your High-Performance contracting business.
For September 2019 we feature the following:
Create the Ultimate Fall Marketing Strategy (Webinar)
Important Test Results (Download)
NSI 3000 CO Monitor Sales Ideas (Download)
Why Should I Demand a CO Test Brochure (Download)
Introduction to Carbon Monoxide (Online Training).
Be sure to share your PowerPack with your entire team!
Each monthly PowerPack is only available for 30 days. So be sure to go online and get started today at ncilink.com/PwrPak.
If you have any questions, or if you are unable to access any of the tools in this program, please contact your Customer Care team at 800-633-7058.
.
---
.
Summit 2020 Early-Bird Deadline is November 1
If you haven't already done so, mark your calendars for April 6-9, 2020. That's when the National Comfort Institute (NCI) High-Performance HVAC Summit 2020 (gotosummit.com) returns to the We-Ko-Pa Resort & Conference Center in Phoenix, AZ.
And be sure to register before November 1st and take advantage of our incredible Early-Bird rate.
Summit 2020 is shaping up nicely. Its theme is 'Coach Your Team to High Performance.' It is designed so attendees will learn skills to better communicate with co-workers the expectations and goals of becoming performance-based.
We're also bringing back the popular golf-outing. Plus there will be additional training/education opportunities from our partners.
The core NCI conference includes two days of breakout sessions topped off with the annual NCI Awards Ceremony. And the best part ' you can register right now for the conference and save hundreds! Plus, as members, you can apply your NCI Bucks towards the event and earn Bucks back.
So don't miss out. Simply click on ncilink.com/Summit2020Reg to take advantage of the Early-Bird rates and get your team set for April 2020. Once pre- and post-con options are available, you'll be the first to know.
Questions? No problem. Call Customer Care at 800-633-7058.