Have Your Tried Out the New NCI Online Training Class?
In November 2019, National Comfort Institute launched its newest Online University training course: Airflow Testing and Diagnostics.
This six-module, interactive course is designed for you, your technicians, and your sales team to learn the basics of static pressure and airflow testing.
GREAT NEWS! This online training course normally costs $299 per student. NCI Members save $100 off that price.
Furthermore, if you're an NCI Learning Excellence Online or NCI Premium Level member, the course is available for all your employees at no additional cost!
So what do you get? In addition to static pressure and airflow testing basics, the course addresses how to diagnose common air-related issues found on most residential HVAC systems in the U.S. It then provides the right solutions to make a significant impact on your customers' homes and businesses.
Airflow Testing and Diagnostics consists of more than eight hours of online technical and sales instruction and includes the following modules:
The Air Upgrade Approach
Introduction to Static Pressure
Measure and Interpret Static Pressure
Fundamentals of Fan Airflow
Plotting Fan Airflow
Completing an Air Upgrade.
Just log into your account on NationalComfortInstitute.com, then click on this link: ncilink.com/ATDonline.
If you have any questions or experience any problems, be sure to contact your representative at 800-633-7058.
---
Coaching Your Team to High Performance
Are you ready for the NCI High-Performance Summit 2020? Do you want to reconnect with Performance-Based contractors from across North America?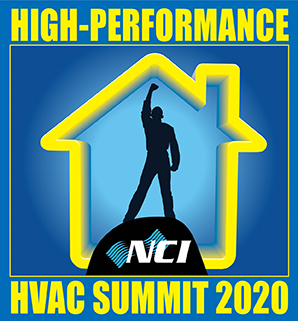 National Comfort Institute's (NCI) High-Performance Summit (gotosummit.com) event returns to Scottsdale, Arizona April 6-8, 2020 where you can join your peers to learn, share, build relationships, and explore new opportunities.
This is the only event of its kind completely focused on marketing, selling, and delivering High-Performance HVAC systems.
A COACHING FOCUS: This year the conference focuses on coaching your entire team to the High-Performance approach to HVAC contracting. From the opening session through every workshop, you will learn how to coach team members on specific topics as you integrate performance into your company.
An additional High-Performance Town workshop, consisting of three hands-on labs, will also be held so you can experience advanced tests and calculations to diagnose and offer highly profitable system upgrades, just as your teams do in the field.
Summit sessions include:
Coaching Your Entire Team: What Is High-Performance Contracting and Why Are We Doing It? ' led by NCI's David Richardson
Coaching Your Managers: How We Will Integrate High Performance into Our Business ' led by Dave DeRose
Coaching Your Technical Team: How We Will Integrate Performance
Testing into Service and Installation ' led by NCI's Casey Contreras
Coaching Your Sales Team: How We Will Market and Sell High Performance ' led by NCI's David Holt
SPECIAL: High-Performance Town 2020 – Hands-on Testing & Diagnostics Labs ' taught by Rob Falke, Jeff Sturgeon, and Justin Bright.
Get all the details at gotosummit.com or call your customer care representative at 800-633-7058.
---
December 2019 PowerPack — It's New, Exciting, and Ready for Download
Welcome to the latest PowerPack exclusively for NCI Members. For December 2019, we feature the following:
How to Perform a ComfortMaxx Air Test

(Online Training)

ComfortMaxx Field Data Collection Report for a Residential Package System

(Download)

ComfortMaxx Field Data Collection Report for a Residential Split System

(Download)

Master HVAC Pressure Diagnostics with NCI Static Pressure Budgets

(Download).
Don't forget to share this PowerPack with your entire team.
Access it at ncilink.com/PwrPak.