R.E. Michel Celebrates 85 Years of Excellence and Service
Despite popular belief, the American economic engine truly runs on the back of small, family-owned businesses. According to the Small Business Administration (SBA), there are 30.2 million small businesses in America that account for 99.9% of all business conducted. Also, small businesses employ nearly half (48%) of the country's workforce.
To illustrate, R.E. Michel Company, headquartered in Glen Burnie, MD, is a national HVAC wholesale distribution company which celebrates its 85th anniversary this year. The company was born in 1935 in the throes of the Great Depression as a supplier to the residential home heating oil burner industry.
Despite the odds being against this new venture, R.E. Michel has grown and expanded to where it has more than 2,100 employees nationwide.
R.E. Michel founder, Robert Emory Michel, started his new business and established the mission for the company to provide business-quality products at a fair price with a devotion to customer service. Today the company is led by Robert's son, John W.H. 'Doc? Michel, with grandson, Bobby.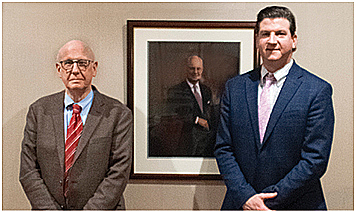 According to Doc, his father began the business during the transitional time when coal heating was being converted to fuel oil. His father saw an opportunity and began manufacturing and selling oil burners.
'My father branded the oil burner the REMCO,' he explains. 'He traveled around the Baltimore area with people from the oil companies basically showing them how to convert coal-burners to oil burners.'
Expansion into Branch Operations
In 1942, R.E. Michel opened its first branch operation in the nation's capital. That was followed up by opening branches in both Richmond and Norfolk, VA. Gradual growth continued over the years with branches opening in other cities.
When Doc's older brother, Butch, came into the business full time in 1960, the focus of the company began to change, to modernize. R.E. Michel had left the manufacturing side of its business in the late 1950s and the next decade saw the introduction of affordable residential air conditioning and natural gas heating.
That was when R.E. Michel began adding that equipment to its line card. Those products included unitary equipment lines and other parts and supplies ' ductwork, grilles, and registers. According to Doc, it was in 1960 that they became Heil Quaker distributors.
He adds that Butch embraced technology, especially computer tech, and had the first one installed in the company in 1972. Two years later, in need of more space, R.E. Michel moved from its original location in downtown Baltimore to Patapsco Avenue. All their offices were moved there. This was the first step to the growth spurt that lead to the company being where it is today.
However, much of that growth was through the acquisition of smaller wholesale operations around the country to where they now have 294 stores in 33 states, plus eight or nine regional warehouses.
According to Doc, they are still making acquisitions today, but nowhere near the level they were in the 70s and 80s.
In 1996, Doc had been employed at the company for around 30 years and was running the purchasing department. He took over as president after the death of his brother, Butch.
Click below for next page: